Virginia
(2012)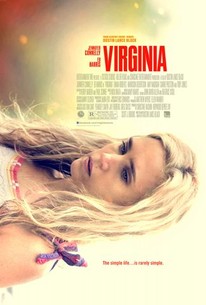 TOMATOMETER
AUDIENCE SCORE
Critic Consensus: Brave, autobiographical, but also completely off the mark, Virginia is a frantic drama that fails to pull the viewer in.
Movie Info
A single mother struggles to raise her son Emmett while dreaming of escaping her small Southern boardwalk town. Her long time affair with the very married, Mormon Sheriff Richard Tipton is thrown into question when he decides to run for public office. Things are further complicated when Emmett begins a romantic relationship with Tipton's daughter. Virginia and the town-populated by Amy Madigan, Toby Jones, Yeardley Smith-are full of secrets and everyone knows Virginia can only keep things together for so long. Virginia is a funny, touching drama that looks at the American Dream and what it takes to keep it together. -- (C) Official Site
Rating:
R (for language and some sexual content)
Genre:
,
Directed By:
Written By:
In Theaters:
Box Office:
$11,069.00
Runtime:
Studio:
News & Interviews for Virginia
Critic Reviews for Virginia
Audience Reviews for Virginia
½
Virginia is kind of all over the place that doesn't seem to know what it wants to be. But Jennifer Connelly is so good here, so it was worth watching, I guess.
Jenna Greathouse
Jennifer Connely is "Virginia", a southern single mom mixed up in an affair with a local sheriff, "Dick", played by Ed Harris. Dick wants to be senator, but his on again off again fling with Virginia, threatens to destroy that. Furthermore, Dick and Virginia's son, so and so, played by "someone", has the hots for Dick's daughter, which pisses Dick off since he thinks it goes against the natural order of things, which it does, but "someone" doesn't realize that. He thinks Dick is not his father. The story rolls along and Virginia's behavior, odd as it is, compounded by her schizophrenia, escalates, turning the whole town upside down.
solidity quark
½
Ah yes, and now we present this delightful, feel-good tale about... a mentally unstable woman who struggles with both a long-term affair and aspirations of escaping the chokehold of small town life. ...Well, I was trying to poke fun at how lighthearted the marketing campaigns behind this film are, but I don't know, this premise really doesn't sound all that harshly dramatic. Perhaps the film's tension would be firmer were it not for the religious angle, because, seriously, the sheriff with whom the titular Virginia character is having an affair is a Mormon, so where's the tension in him having another woman on the side? Eh, I don't fully get the polygamy aspect of Mormonism, but then again, I don't fully get most every religion, and yet, I don't know if there's a whole lot to question when you're hooking up with Jennifer Connelly... except maybe those eyebrows, that forehead and that blasted blonde dye job. Yeah, speaking of not fully getting things, if they were trying to get the upper half of Connelly's head to dress her down even further, then they succeeded, and I can't say I'm surprised, because if anyone knows not being all that attracted to women, it's executive producer Gus Van Sant and, of course, writer-director Dustin Lance Black. Man, I knew that Black was really into gay rights and blah-blah-blah, but jeez, he's deprogramming people so much that he's gone so far as to make a film about a small redneck town with a Mormon sheriff. Granted, this film has nothing to do with gay rights, though the fact that a gay man on the level of Black is doing a film like this in the first place makes this project either a subliminal deconstruction of small-town ignorance or, well, just a dull movie, or at least that's what everyone else says, because I actually liked this film, though not to where I can hope to ignore a fair deal of flaws. The film's flaws are not as glaring as they say, nor are the strengths very limited, so what secures the relative underwhelmingness is natural shortcomings, as there is only so much room for kick within this minimalist character drama, and yet, there is still a good deal of potential to this story concept, so much so that the project stands a pretty decent chance of producing a rewarding final product, yet ultimately doesn't, due to conceptual shortcoming's going emphasizes by flaws in the interpretation of this improvable tale, or at least conventionalism. I'm not asking for all that much refreshment to this material, but really, the inconsistency that everyone is griping about even touches the uniqueness value of this film's storytelling, which has its share of imaginative areas, but then swiftly devolves into a formulaic structure, complete with familiar characters and plot beats that may not reinforce predictability all that firmly, but still stand throughout a plot that drags along enough for you to get a good taste of the familiarity. Really, I was worried that this film was going to be dull, but I'm all but happy to report that the final product is actually pretty entertaining on the whole, but subtly so, relying on subtle draws on lively material that, upon running thin, leave the film to collapse into a bit of atmospheric coldness, which distance resonance and even settle momentum, occasionally to a crawl. Pacing, alone, carries an aura of aimlessness, and that's a shame, because when the film picks up, it's pretty lively, though not lively enough to hold back slowness, which is still not as big of a problem as a certain unevenness in storytelling's overall structure. The reviews for this film are crushing, and whether that be because not enough people are seeing this film to balance out the bad comments with the good, or whatever, the overall consensus is that this film is inconsistent, and while I won't go so far as to subscribe to the sentiment that the final product is truly all over the place, on top of a uniqueness factor and pacing, inconsistency haunts the plot's tone - which jars between lightheartedness, maybe even satirical, and subtle dramatic bite - and overall structure, whose uneven usage of characters convolutes your understanding of role hierarchy, while excess material convolutes the path that this story follows with overambitiously forced plot layers that exacerbate the aimlessness, perhaps even inspire it. If pacing doesn't limp things out, then it's plot structure itself, because as well-made as this film is in plenty of places, its story concept isn't intriguing enough to take so many blows from familiarity, uneven pacing and barely focused storytelling to survive as rewarding. Nevertheless, the film won me over more than it won others over, being a mess and all, but a borderline rewarding mess, which meets its fair deal of shortcomings with a fair deal of strengths, including those of a stylistic nature. Going by the pretty poster, as well as that recent little fad of polishing independent films about as much as they can be, it's easy to expect this film to look good, and sure enough, if nothing else is being underappreciated about the film, it's Eric Alan Edwards' cinematography, which isn't too outstanding, but cleverly plays up somewhat harsh lighting and coloring to compliment the film's grimy tone, yet still have a certain ruggedness that is consistently handsome, and sometimes gorgeous. Now, when I say, "sometimes gorgeous", I mean it, as visual style isn't played up too much in this film, but when it is, the effort is quite the looker, and if compliments are being given to the film's style, chances are that, outside of acting, that's where compliments end with other critics, which is a shame, as I personally feel that substance deserves more credit. Sure, potential is limited in this somewhat minimalist character drama, and feels further thinned out by formulaic and inconsistent plotting, but through all of the excess material and familiar beats, there is a core to this film that I personally find to be pretty juicy, boasting interesting characters and conflicts that go brought to life in execution more often than not. Granted, the execution itself betrays potential reward value that could have been relatively easily achieved through even more realized storytelling, but what Dustin Lance Black does well is done quite well, with writing carrying well-rounded characterization and intriguing, if sometimes either overly thinned out or overly pronounced thematic depth, while direction plays with anything from Nick Urata's perky score work to an ambitious heart in order to charm, maybe even soak up a degree of compellingness that does indeed have its heights. The ending is particularly nailed, being not simply rewarding, but powerful, almost frustratingly so, as dramatic integrity would be harder to shake if the film was more consistent and realized, and yet, where most are deeming the effort distant, I would consider intrigue meaty enough for a rewarding film to come in glimpses amidst consistent engagement value, sustained in part by inspiration within Black's faulty, but charming debut directorial performance, and in part by an aspect that the other critics actually do get right. This is a character drama that falls just short of rewarding under the weight of its flaws, but if nothing else is consistently realized about this film, it's the very important attribute of acting, which is across-the-board impressive, but especially so when it comes to the leads, as young leading man Harrison Gilbertson convince as the protector of a woman who has shaken his life into a mess, as surely as Ed Harris convinces as a man of God and politics who fears what could happen to his respectable life if his affair bears fruits, while Jennifer Connelly truly steals the show, capturing the parental guilt, fear and colorful and often disturbing instability of the titular Virginia character with such thorough charisma, layered depth and overall effortless transformativeness that if nothing else can be taken home from this film, it's yet another reminder of Connelly's tremendous talent. Connelly is truly outstanding, and I wish that the realization that she graces this drama with was more prominent in the other aspects of the telling of a promising tale, as there is a rewarding film lost in the midst of inconsistency, but not so obscured that I couldn't walk away entertained and compelled, if wishing for more. In conclusion, natural shortcomings go emphasized enough by formulaic, sometimes lazily paced and, worst of all, tonally and structurally uneven, maybe even aimless storytelling for the final product to fall just short of the reward value that many critics are, for some reason, saying the final product is miles away from, but through handsome cinematography, highlights in writing and direction, and across-the-board strong performances - the strongest of which being by an outstandingly transformative Jennifer Connelly - behind a generally conceptually engaging story concept, Dustin Lance Black's "Virginia" stands as a reasonably entertaining and compelling drama that stands to be more, but is better than they say. 2.75/5 - Decent
Cameron Johnson
Super Reviewer
Virginia Quotes
| | |
| --- | --- |
| Virginia: | I'm a good Mormon woman , God will look after me . |
| Virginia: | I'm a good Mormon woman. God will look after me. |