Viruddh
(2005)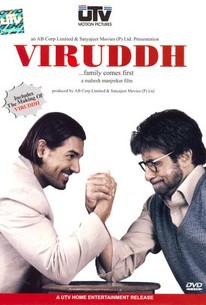 AUDIENCE SCORE
Critic Consensus: No consensus yet.
Movie Info
A grieving parent wants to clear the name of his son and see that the culprit gets his due in this drama from India. Vidhyadhar Patwardhan (Amitabh Bachchan) and his wife, Sumitra (Sharmila Tagore), are a pair of retirees in their sixties who often wish there was more excitement in their golden years, but are generally content with their lives. Vidhyadhar and Sumitra both dote on their son, Amar (John Abraham), who is in his early thirties, though his rowdy and impulsive nature often worries Sumitra. Amar has been living in England for several years, and when he returns for a visit, he has a surprise -- a fiancée (Anusha Dandekar). However, the happiness of his parents is short lived when Amar is killed when he happens upon a crime in progress on the street. Vidyadhar wants to see the men who killed his son brought to justice, but it soon becomes apparent this isn't going to be easy -- the defense attorney claims that Amar was a drug dealer and that his clients acted in self-defense, and his strategy is unexpectedly successful. Will Vidyadhar have to take the law into his own hands to avenge his son?
Critic Reviews for Viruddh
All Critics (1) | Fresh (1) | Rotten (0)
Essentially a tearjerker that will make one sit up and think about the implications of the sudden deconstruction of the family unit, and the far reaching effects this has on each member mentally and emotionally.
Audience Reviews for Viruddh
Here's a memorable, and very endearing movie about a family that is first strengthened, and then quite rapidly, altered. Sumitra and Vidyadhar Patwardhan are an elderly couple that has long awaited the return of their son, Amar. In his return, he comes home with the woman he loves and introduces her to his parents. As the four become a family, everything is then perfect and completed. Their happiness is short-lived at the brutal death of their son. Vidyadhar intends to find his son's killer. Great cast- Amitabh Bachchan, Sharmila Tagore, John Abraham, and Sanjay Dutt. Worth seeing!
Viruddh Quotes
There are no approved quotes yet for this movie.