The Thief (Vor) (Вор)
(1997)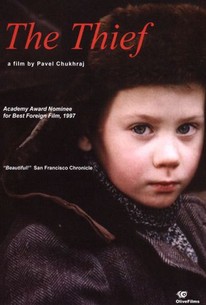 Movie Info
Sanya was born amidst the cold and muck of an empty field. At age six, he and his mother Katya boarded a train and encountered Tolyan, a handsome army officer who wasted no time in becoming Katya's lover. At first Sanya resents Tolyan, but then comes to love him like a father. Tolyan teaches the boy all about manliness and other important things, and their family is happy until the day that mother and son learn that Tolyan is not a soldier but a thief. Still their love for him remains strong and they stay together until he is arrested and sent to Siberia on a seven-year prison sentence.
Critic Reviews for The Thief (Vor) (Вор)
Audience Reviews for The Thief (Vor) (Вор)
11 September, 2014 Simple, but uninteresting. 1/10.
familiar stranger
Super Reviewer
½
I beautifully told story of a boy growing up in Stalin era Russia. Beautifully filmed and at times really touching, with a pretty amazing cast. While the early years of Sanya's life (which thankfully is the bulk of the film) are really moving and wonderfully acted by the young Misha Philipchuk, the last twenty minutes are a bit of a let down as the actors playing "teenage" Sanya "mature" Sanya just werent as good or engaging. Which sadly took a lot of the emotional "wind" from the sails of this story. But all in all a good solid film.
Vor, The Thief was an example of excellent Russian drama. It was great done with excellent scenes, cinematography, and acting,.It showed an inside view of life in Russia during the Stalin regime, where people were forced to live in bad circumstances and struggle to survive. A single mother with a young son became involved with a man they met on a train, and they believed he was a soldier, but he turned out to be a thief preying on people. The story was narrated by the little boy, who saw him as a father figure and loved him but then felt betrayed by his actions. This was an emotional movie, with no stereotypes characters but real human feelings who draw you into their fear and pain. It was an unforgettable movie.
Daisy Maduro
Super Reviewer
The Thief (Vor) (Вор) Quotes
There are no approved quotes yet for this movie.