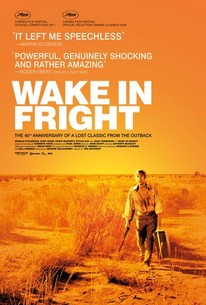 Wake in Fright
1971, Drama/Mystery & thriller, 1h 39m
59 Reviews
2,500+ Ratings
What to know
critics consensus
A disquieting classic of Australian cinema, Wake in Fright surveys a landscape both sun-drenched and ruthlessly dark. Read critic reviews
Rate And Review
Movie Info
After finishing up the school term in a remote outback town, teacher John Grant (Gary Bond) looks forward to spending his holiday with his girlfriend in Sydney. But John gets waylaid in a mining town where a gambling spree leaves him completely broke. He quickly falls in with the hard-drinking locals, who constantly ply him with alcohol and force him to participate in a gruesome kangaroo hunt. Disgusted, John tries to hitchhike out of town and, when that fails, begins to contemplate suicide.
Audience Reviews for Wake in Fright
In "Wake in Fright," John Grant(Gary Bond), a schoolteacher, is looking forward to the Christmas holidays more than anything else. This will give him an opportunity to temporarily leave the Outback in favor of Sydney and his girlfriend Robyn(Nancy Knudsen). But first he has to take a train to the next town where he is scheduled to get a flight out the following morning. And then finds a possible solution to his problems... Even though it is not the horror movie I was expecting, "Wake in Fright" is still an effective study in how the Australian Outback is not for all people and perfect for others. To that effect, the movie makes very good use of nightmarish imagery and forehshadowing. And it is also one of the few movies to visualize hot weather on screen so well which works towards showing how celebrating Christmas in such a hostile environment can be unsettling while raising the question about whether John is fantasizing about his girlfriend or ice water more.

A shocking, brutal and jaw dropping portrait of Australia, insanity, social horror and the battles of human soul. Fresh.

An educated teacher stuck in an backward Aussie Outback town learns about beer drinking, gambling, beer drinking, hunting kangaroos, beer drinking and "d'yawanna anofer beer, mate, there's a good lad." An Australian-style Deliverance, no banjo, no river, but plenty of "squeal like a pig, boy!" Also, be prepared for the wholesale killing of about 20 kangaroos ... despite it being integral to the story.

Wake in Fright is, for a variety of reasons, a very difficult movie to watch. There isn't much plot development after 20 or 30 minutes, it's very slow-paced, and in a very subtle way it's unsettling and disturbing for just about the entire movie. It follows John Grant, a teacher working at a small school in the middle of nowhere who wants to visit his girlfriend in Sydney. Grant aims to take a one-night stop in the grimey town of Bundanyabba before taking a plane to Sydney, but he soon loses all his money gambling in a bar, and he's stranded in what the locals call "the Yabba". The welcoming and genial attitude of the locals is simply a thin disguise for the cruel, drunken, violent savages that inhabit the town. The men drink all day and go out on drunken joyrides all night, reveling in their aggressive masculinity by shooting animals and fighting each other until they pass out. It's easy to understand why, despite glowing reviews, Australian audiences were hesitant to watch it; It doesn't paint a flattering portrait of outback Australia. What makes it so shocking isn't so much that there are two or three very graphic scenes, but rather that these few scenes are painstakingly realistic down to the last detail. The film's most disturbing sequence, a drunken late-night hunting trip which is all too memorable, isn't even staged; the animals onscreen were genuinely slaughtered on camera by hunters, and it's all shown in horrifying detail. The filmmakers reportedly had to stop filming the scene early because the hunters they hired were becoming too drunk and the cast and crew were fainting at witnessing the brutality. If that repulses you, then pat yourself on the back because you're human. The rest of the movie is not nearly as graphic as that scene, but it's still just as intense. Even though not a lot of action is always happening onscreen, there's a transfixing quality to watching these men get drunker and drunker as they become increasingly primitive and savage. Wake in Fright is one of the few movies that, despite being incredibly powerful and well-made, I can ever watch again. It's dark and brutal to an almost intolerable degree, and if you have an ounce of humanity in you then you'll be shaken to the core by the time it's over, but it's also intelligent and, in a unique way, pretty remarkable.
See Details