When We Leave
(2011)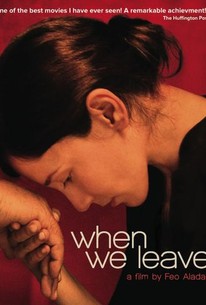 Movie Info
In awarding the film Best Narrative Feature Award, and Best Actress Award for Sibel Kekilli, the Tribeca Film Festival Narrative Jury said of the film: "WHEN WE LEAVE examines one woman's struggle for personal freedom. It is a riveting and heartbreaking story of a woman trapped in an abusive relationship, who must not only free herself from that marriage, but also the cultural prejudices and judgments that would keep her there. Feo Aladag built the nuances of her film over a six year period. She rehearsed her actors for seven months. She immersed herself in every detail of a culture that is revealed to us in remarkable detail. The result is a film that balances complex social issues with honest human yearnings. Through the brutality, WHEN WE LEAVE is also a story of tenderness, the struggle for compassion, the inexorable pull of family and the need to love and be loved." German-born Umay (Sibel Kekilli) flees her oppressive marriage in Istanbul, taking her young son Cem with her. She hopes to find a better life with her family in Berlin, but her unexpected arrival creates intense conflict. Her family is trapped in their conventions, torn between their love for her and the traditional values of their community. Ultimately they decide to return Cem to his father in Turkey. To keep her son, Umay is forced to move again. She finds the inner strength to build a new life for herself and Cem, but her need for her family's love drives her to a series of ill-fated attempts at reconciliation. What Umay doesn't realize is just how deep the wounds have gone and how dangerous her struggle for self-determination has become... -- (C) Olive Films
News & Interviews for When We Leave
Critic Reviews for When We Leave
Audience Reviews for When We Leave
½
This past year I took the 100 series of German language courses at my university. It was a great experience and I loved learning the language. One of the benefits, along with my love of film, was the introduction to some great German films. This particular film, a new one, was brought up by my 103 instructor, who praised it. So naturally I had to check it out. The film deals with immigration issues in Germany and the resulting culture clash, issues that have also arisen in a philosophy class I took that same quarter. So the intrigue of this film was more than I could bear to not seek it out. The film follows Umay (Sibel Kekilli) who is the young wife of Kemal and mother of Cem. They live, not so happily, in Istanbul. When Kemal goes too far and Umay has had enough, she flees to Germany, where her family has migrated. But upon learning about her reasons, her family ostracizes her for shaming their family. Left to her own devices, a single mother and an immigrant in Germany, Umay struggles to come to grips with the grim reality of the customs of her Turkish family. Writer/director Feo Aladag, in her debut feature, raises some interesting questions and makes some nice observations. The male-centric Turkish culture may be out of date in this modern world and Umay's wishes and desires should not effect the dignity of an entire family, or the fate of her younger sister's true romance, but they do. I mentioned my philosophy class earlier. In it, we discussed the flawed philosophy that right and wrong are determined on a culture to culture basis, and who are we to say that another culture is wrong? Like I said, it is flawed, but it does present an interesting case in some situations. For instance, Umay is rebelling against her cultures view of right and wrong, attempting to stand up for her individual rights as a woman, whose rights are generally disregarded. It is an admirable attempt, but the manner in which she does it is somewhat tactless and she is only setting herself up for failure. Many of her actions are selfish, even to the point that Cem, the only true innocent in the story, is overlooked. Her family, while shunning her, does give her the ability to live her own life without them, yet Umay insists on getting everything that she wants, pretty much ruining her sister's wedding just so that she can see her. In this regard, the film does not work. It has good intentions and does discuss/bring up important issues, but it does not handle them well. Plus they through in an under-developed pseudo-romance for seemingly no reason. Other aspects of the film are quite admirable though. The cinematography for example is quite good. And a lot of credit should be given to the lead actress, Sibel Kekilli, who plays Umay with a of of heart and emotion. It's just that the narrative and direction fail the material behind it. I truly feel sorry for Cem.
Adam Kuhn
In "When We Leave," Umay(Sibel Kekilli) suffers another beating from her husband Kemal(Ufuk Bayraktar) after she was caught lying about where she spent the day. In fact, she had gotten an abortion, the first step in leaving her husband, with their son Cem(Nizam Schiller), to return to her native Germany, away from Turkey where she always felt isolated and alone. At home, her younger sister Rana(Almila Bagriacik) is getting ready for her wedding while their parents(Derya Alabora & Settar Tanriogen) are curious how long she will be staying. Yeah, about that...Umay's plan is to stay permanently, planning on working and studying, and burning her passport to make her point. In which case, a plan is made to return Cem to his father... "When We Leave" is for the most part a compelling drama on the difficult subject of honor killing, exploring it with much needed complexity, especially the hypocrisies involved. For a lot of the movie, this is accomplished through very good performances and subtlety. But the movie self-destructs with a horrible ending(maybe not for the reasons you are thinking) and a scene where the movie grandstands to horrifying effect. As an unintended side effect, Umay, who for the most part comes off as sympathetic, starts to seem a little self-centered, not realizing that her actions have repercussions for others, especially her family.
When We Leave Quotes
| | |
| --- | --- |
| Umay: | I'm staying here. Find work, go to school. |
| | |
| --- | --- |
| Halime (Umay's Mother): | You cannot separate your son from his father. |
Discussion Forum
Discuss When We Leave on our Movie forum!