When Zachary Beaver Came to Town
(2003)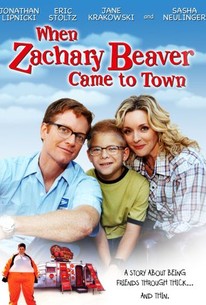 AUDIENCE SCORE
Critic Consensus: No consensus yet.
When Zachary Beaver Came to Town Photos
Movie Info
When a one man sideshow rolls into Granger, TX claiming to showcase "the fattest boy in the world," the lives of two small-town teens are changed forever in this touching coming-of-age tale based on the National Book Award-winning novel by Kimberly Willis Holt. Zachary Beaver (Sasha Joseph Neulinger) is a morbidly obese teen who travels from town to town with his best friend and business partner Paulie Rankin, earning money off of his unusual appearance. When curiosity gets the best of Granger kids Toby (Jonathan Lipnicki) and Cal (Cody Linley) and they decide to check out the show, the unlikely bond that forms between Zachary, Toby, and Cal marks the beginning of an unforgettable summer of fun, growth, and friendship.
Critic Reviews for When Zachary Beaver Came to Town
Audience Reviews for When Zachary Beaver Came to Town
½
A cute predictable story based on an old novel, When Zachary Beaver Came To Town is the story of two boys and the summer that changed their lives, which just happends to co-inside with the arrival of the world's fattest boy visiting their small Texas town. This movie isn't bad, but the story is inconsistant and jumps around quite a bit. At times, it seems as thou Zachary is just a quirky side charachter rather than the focus of the film. Both the young leads are fantastic thou and the young southern belle charachter was just hilarious. It's a cute movie, it's not going to blow anyone away, but if you're looking for something fun and simple, check it out.
Todd Smith
Super Reviewer
The movie was an alright watch. In reality it was just a bunch of dramatic things happening in a young boys life that sort-of tied into his new friendship found in "The fattest boy in the world". It's worth a watch one time and has some decent scenes. However the ending was ridiculous. (Why any obsese kid would enjoy being a circus-freak is beyond me) and the little girl actor in it was the most annoying child actor I have ever seen on tv, movie, period.
Bobby Hobbs
Super Reviewer
When Zachary Beaver Came to Town Quotes
There are no approved quotes yet for this movie.