The White Balloon (Badkonake sefid)
(1995)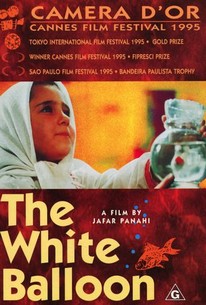 The White Balloon (Badkonake sefid) Photos
Movie Info
A seven-year old girl's quest for a beautiful goldfish provides the basis of this charming Iranian children's drama set the day before Iran's New Year's eve celebration and filmed in real time. Razieh really wants this fish, which is much prettier and plumper than those in her neighbor's pool. Unfortunately, her mother cannot afford such a luxury and refuses to buy it. Razieh then talks her brother, who can also see no point in owning the fish, into convincing their mother to change her mind. He is successful and the mother reluctantly gives the little girl the very last banknote with strict instructions that she is to bring back every bit of change as the mother needs it to pay household bills. The girl then sets out across the city; soon she finds herself distracted by a snake charmer who cons her out of her precious note and frightens the girl half to death, finally driving home the reasons why her parents wanted her to avoid that part of the city. Fortunately she manages to get the money back, but before she gets to the market, she accidentally drops the bill. Later an old woman helps her go back to find it. Unfortunately, the money has blown beneath the curbside cellar grate of a closed shop. Many people gather on the grate while the vendors begin closing up for the upcoming holiday. All are interested in helping the girl get her money. They must hurry, for the fish vendor's shop is closing soon.
Rating:
NR
Genre:
, ,
Directed By:
Written By:
In Theaters:
On DVD:
Runtime:
Studio:
October Films
Critic Reviews for The White Balloon (Badkonake sefid)
Audience Reviews for The White Balloon (Badkonake sefid)
watched this when i was feeling sick and had a day off school... it only takes place on like 2 streets but it kept me wondring... it was sort of like you was on the quest for the fish as well.... i liked this movie because it was just realistic and like an everyday event that people can go through
Paul Atkinson
This is my first film directed by Jafar Panahi, but I would say the more important credit is that it was written by Abbas Kiarostami. The film plays out much like Where Is My Friend's Home?, using a child with a very simple problem to illustrate the interactions of a community. You can't think of a much more stripped-down premise than "little girl wants to buy a goldfish", but Panahi & Kiarostami mine it for plenty of tension, insight and subtle social commentary. The fleeting hints at something sinister going on with the father (the son appears with unexplained bruises, the mysterious "second job") are intriguing. I must confess that the significance of the balloon vendor's ethnicity entirely escaped me until I started reading the IMDb message board, but I think you would have to be from the area to pick up on it. This is a terrific movie that does an awful lot with so little, and features some excellent, understated performances.
Martin Teller
½
One of my favorite foreign films of all time. Razieh is one of the most memorable character in recent memory. There are so many good scenes. Like when she finds the snake and the snake charmer. Or when she struggles to get the dollar from the gutter she dropped it in. The entire battle to get the gold fish. The weird creepy soldier at the end. Her brother acting like a mad man. God damn fine movie. This got me into middle eastern films more. Great Concept, Great Execution!
Erick Freitas
The White Balloon (Badkonake sefid) Quotes
There are no approved quotes yet for this movie.