The White Balloon (Badkonake sefid)
(1995)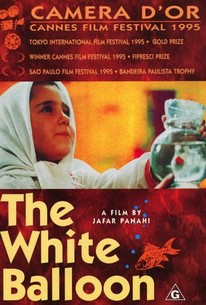 The White Balloon (Badkonake sefid) Photos
Movie Info
A seven-year old girl's quest for a beautiful goldfish provides the basis of this charming Iranian children's drama set the day before Iran's New Year's eve celebration and filmed in real time. Razieh really wants this fish, which is much prettier and plumper than those in her neighbor's pool. Unfortunately, her mother cannot afford such a luxury and refuses to buy it. Razieh then talks her brother, who can also see no point in owning the fish, into convincing their mother to change her mind. He is successful and the mother reluctantly gives the little girl the very last banknote with strict instructions that she is to bring back every bit of change as the mother needs it to pay household bills. The girl then sets out across the city; soon she finds herself distracted by a snake charmer who cons her out of her precious note and frightens the girl half to death, finally driving home the reasons why her parents wanted her to avoid that part of the city. Fortunately she manages to get the money back, but before she gets to the market, she accidentally drops the bill. Later an old woman helps her go back to find it. Unfortunately, the money has blown beneath the curbside cellar grate of a closed shop. Many people gather on the grate while the vendors begin closing up for the upcoming holiday. All are interested in helping the girl get her money. They must hurry, for the fish vendor's shop is closing soon.
Critic Reviews for The White Balloon (Badkonake sefid)
Audience Reviews for The White Balloon (Badkonake sefid)
It was brilliant, specially the simplicity of the movie, It is about a girl who sets out to buy a goldfish, but things happen on the way. This is a very slow paced movie. The plot is thin in terms and it frustrated me in the beginning with distractive style. However it is quite funny on the surface.
Daisy Maduro
Super Reviewer
The White Balloon (Badkonake sefid) Quotes
There are no approved quotes yet for this movie.