White of the Eye
(1987)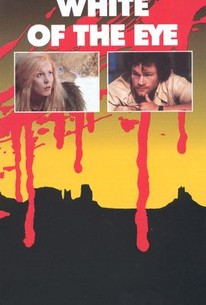 Movie Info
In this thriller, an Arizona town is terrorized by a brutal serial killer and the police set out to capture the murderer. Although her marriage has its problems, Joan White (Cathy Moriarty) always thought her husband Paul (David Keith) was a fairly stable man. However, when the police turn up crime scene evidence that points to Paul, Joan and the townsfolk begin to have their doubts.
Critic Reviews for White of the Eye
Audience Reviews for White of the Eye
½
Compared favorably to Henry: Portrait of a Serial Killer, White of the Eye actually departs from that time-honored template with a more scandalous character study. The quasi-spiritual opening of an Arizona hawk in flight weirdly glazes the film with a red-blooded Americana feel. This was produced under the Cannon Films label and automatically the notion of a kamikaze bloodbath flashes before the viewers. Expectations aren't dissuaded during a fashion model's assault in her kitchen. It's par for the course except the voyeuristic close-ups of a crazed eyeball darting around. It's an effectively hellacious shot selection. David Keith is brilliant as Paul White whose untoward talent is echolocation like "there is a tuning fork in [his] sinuses". It's a niche trait but it also substantiates that White isn't bordering on normalcy. White is not antisocial. He is a blue-collar sound installation man with a family which might be more galvanizing when he is aroused by predatory hunting. The crown jewel is Paul ranting his ethos about being "chosen" to eradicate the "misery" of women and the female "black hole" in the universe. The 70's flashbacks are retro-corny with bouffant hairstyles, tape decks and hippie attitudes. The surreal camera angles are avant-garde (a Fritz Lang exchange about cookie between Paul and his daughter) but the real culprit is pointless dawdling. An introspective expose on the tightrope act of a moonlighting serial killer would've been a fruitful area. Instead Donald Cammell squanders the opportunity on frivolous subplots around Paul's supposedly extramarital affair and Joan's (Cathy Moriarty) splintered relationship with Mike (Alan Rosenberg). By the point where Keith is stalking his prey with Apache war paint, it is too foolish to be taken seriously anymore.
Cory Taylor
Super Reviewer
½
i haven't seen it in awhile but this is a pretty good and suspenseful slasher that was filmed in my town :)
Stella Dallas
Super Reviewer
White of the Eye Quotes
There are no approved quotes yet for this movie.