Who Killed Nancy?
(2010)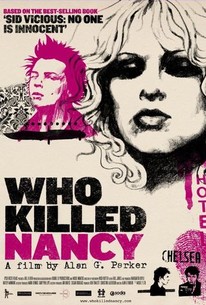 TOMATOMETER
AUDIENCE SCORE
Critic Consensus: The titular question remains unanswered. We still don't know after this inconclusive, and shallow investigation into the seedier depths of Punk.
Movie Info
12th October 1978. Room 100, the Chelsea Hotel - a faded 19th century façade masking, a clientele of junkies. The floor of the tiny en-suite bathroom is covered in blood. And, slumped between the toilet and the sink is the body of a woman, peroxide blonde in black bra and panties. She is Nancy Spungen, a twenty year old, heroin addicted, former stripper, prostitute and groupie. She also has the accolade of being Sid Vicious' girlfriend, to add to her crimes! A trail of blood leads to the bedroom where an NYPD detective - watched by his partner and six uniform officers - is slapping the aforementioned Sid, until minutes ago out cold on a concoction of drugs that might have killed a horse, across the face. He comes round. And seeing he's got an audience, gives way to bravado: "Go on, arrest me. I'm a dog, a dirty dog. I did it and I deserve everything I get, shoot me, kill me!" Sid was arrested and charged with the murder but the case never came to trial and many questions remained unanswered. His guilt unproven and his innocence proclaimed. Alan G Parker sets out on his journey to discover the truth. Nancy is a regular on the punk scene with a talent for giving great blow jobs and a taste for musicians and heroin. Legend has it that she slept with every member of one major band, in one night! The men use her then lose her. The women brand her "Nauseating Nancy". But Nancy's determined, ballsy. She knows what she wants and she'll do anything to make sure she gets it. When the Heartbreakers leave for London on tour, Nancy follows and washes up at SEX, the King's Road clothes shop run by McLaren and his girlfriend, Vivienne Westwood looking for Jerry Nolan, the drummer in the Heartbreakers Sid's debut is at the Notre Dame Hall, just off Leicester Square. Dressed in trainers, jeans with the knees ripped out and a Vive Le Rock T-shirt and a brand new Fender Precision bass, he looks every inch the star. He hogs the mic. He steals the limelight. Watching, in the audience is a bottle blonde in black jeans, a black leather jacket, studded belt and a string mohair jumper bought from SEX: Nancy. She is accompanied by Linda Ashby, a junkie prostitute and already a Sex Pistols insider. Nancy and Sid wake up in bed together. It's morning, 11am - and this girl hasn't left yet. Sid thinks she must be his girlfriend. And from that day on, she is. Friends remember the birth of the co-dependent relationship of this modern day Romeo and Juliet that could only end one way: badly. It's 1977 - Jubilee year, the Pistols at their height sacked by A&M Records and picked up by Virgin in a matter of weeks, they achieve the worlds first banned number 1 single - and the inseparable Sid and Nancy are joined at the hip, living on a diet of sex, punk and heroin. There are fights. Sid downs a bottle of vodka, turns to the heroin and tries to throw himself out of a third floor hotel window. Nancy saves him by grabbing his belt. She's thanked when he takes out his frustrations on the hotel furnishings and her. A few short months and a disastrous US tour later, the band is finished. The victims of too much to soon, and their own now growing egos. Sid returns home to Nancy and heroin. They hole themselves up in a love-nest in Pindock Mews. Steve Dior, the only surviving member of Sid's solo group, remembers going round for dinner - "I didn't know you could ruin fish fingers and beans, but she managed it". Domestic bliss it is not. When 'Dead on Arrival' director Lech Kowalski turns up to the flat to film Sid and Nancy, all he gets is footage of them lounging in bed, Sid in sunglasses and barely conscious, clutching a scotch and coke and Nancy lighting his cigarettes and finishing his sentences. They look like corpses in waiting. McLaren is trying to keep the idea of the Sex Pistols alive with Sid as front man. With Nancy in tow, they go to Paris. Sid records his iconic version of 'My Way'. But he's a physical wreck and almost impossible to work with. Nancy has other plans anyway. She usurps McLaren as Sid's manager. Sid and Nancy put together a show with the help of Glen Matlock, the man Sid replaced in the Sex Pistols. His fellow Rich Kid' Steve New and Rat Scabies. The Vicious White Kids play an amazing one-off gig. Sid and Nancy pocket the proceeds and head to America. Sid and Nancy unpack in room 100 of New York's Chelsea Hotel - Sid's gold records, a Never Mind the Bollocks poster and an innocuous-looking Fairy Liquid bottle. In it is the couple's stash of Methadone and Nancy's scrapbook, filled with cuttings on the legend that is and can only be - their own. Sid's gigs are getting him a reputation. He's out of it, cutting himself, getting bloody. Backstage, Nancy takes her revenge on the US crowd that had shut her out before she went to England, jealously controlling contact with Sid, not letting those who'd shunned her anywhere near her very own rock star. For the first time in her life, she's in charge. 12th October, 1978. Room 100, the Chelsea Hotel. The Never Mind the Bollocks poster unpacked that summer is littered with needles. Sid's gold discs are spattered with blood. And Sid is being led away by the NYPD. He's taken from the hotel to be arraigned at a New York courthouse. As the New York Post of 13th October 1978 had it: 'Sid Vicious, bass guitarist of Britain's spitting and stomping Sex Pistols Punk Rock band, yesterday was arrested and charged with stabbing his sultry blond girlfriend to death in their room at Manhattan's famed Chelsea Hotel. His face pale and scratched, the dazed-looking Vicious muttered curses and "I'll smash your cameras" as he was led from the hotel.' In court, Sid rests his head on a table and shudders throughout the 10-minute hearing. He is taken to the tough Rikers Island prison, photographed for ID, and locked in a cell to await his trial. And begin detoxification. What happened in the hours that preceded his arrest? Did Sid really kill Nancy? And, if he didn't, who did? The official story goes like this. Sid and Nancy spent the night doing drugs with friends. When they were alone, they fought. Sid took one of his knives and stabbed Nancy in the abdomen then passed out as she bled to death. When the police arrived, Sid confessed. Alan Parker's first witness is Steve Dior, Sid's former band mate. Sid might have "confessed" when he was slapped conscious by the NYPD but from that day to the day he died, Sid swore he hadn't killed Nancy. Dior remembers Sid's insistence when he asked him point blank if he'd done it: "I didn't do it! I didn't kill her! I didn't kill Nancy!" It's a view shared by other friends of Sid. If they knew one thing about Sid Vicious, it was that he loved Nancy Spungen. But their drug-fuelled life together had been violent. So he loved her, but did that prove he didn't kill her? An autopsy on Nancy's body confirmed that she had died from a single stab wound to the abdomen. She'd been stabbed some time between 6am and 7am and died some time between 9am and 10am. The doctors' reports of the time said she would have survived between two and three hours after being stabbed. But the police team investigating Nancy's murder had overlooked some important evidence: a bottle of Tuinol tablets and some brown flaky powder and three hypodermic needles. They were discovered hours later. Expert opinion insists that the dose of Tuinol that Sid took would have knocked him out cold. Doctors at the time estimated he'd been unconscious for five hours or more. Sid came round sometime around 9.30am when he found the body and raised the alarm. According to the experts, he must have been unconscious since, at the latest, 4.30am. If Nancy was stabbed between 6am and 7am, then Sid couldn't have done it. One of the witnesses to the circumstances around Nancy's demise was Neon Leon Webster, a singer/songwriter and drug addict who was in room 119 with his girlfriend when Sid and Nancy were said to have visited them at 9.45pm the night before Nancy turned up dead. The version of events Neon Leon gave to the police not only does not stack up but is different to the version of events he gave to the New York Post twelve hours later, which is different again to the version he told the Soho Weekly News a few days after the murder! So with the police case founded on unreliable testimony and experts prepared to say Sid couldn't physically have done it, who did kill Nancy - and why? To take Deep Throat's advice to Watergate investigators Woodward and Bernstein - follow the money. Sid and Nancy, not the sort to have bank accounts, had just been paid $20,000 in cash by Virgin Records for the royalties due to Sid for 'My Way'. They hadn't made much of a dent in it yet, so on the night of Nancy's murder, most of the cash was sitting in the bedside cabinet in their hotel room. Friends and witnesses who were there in the hours before Nancy's body was found remember seeing it. By morning, it was gone. So whoever did kill Nancy had quite a motive... Alan Parker's investigations over the past 22 years have led him to the door of a number of suspects and plenty of evidence that it is likely that Sid did not kill Nancy. Stanley Bard, the Chelsea Hotel manager, bears them out too. And James Merberg, the lawyer hired by McLaren and Virgin Records, to defend Sid believes that if he had made it to trial, Sid would have been acquitted. So that was that. Only Sid is in Rikers Island prison and the police and press think they've got their man. Case closed. McLaren posts the $25,000 bail. Sid is released into the care of his mother, Anne, and books into The Deauville, a low-rent welfare hostel on Madison Avenue. Sid's upbeat, telling McLaren and his mother how his fellow inmates at Rikers loved the Sex Pistols. He was "Big Charlie Potatoes" in there. McLaren plans a change of image - clean living, keep fit. But Anne has trouble selling it to her punk legend son. A month later, Sid gives his last UK television interview to Bernard Clarke on BBC's Nationwide. "Where would you like to be?" Clarke asks Sid. "Under the ground." "Are you serious?" "Oh yeah." Sid is hanging out with friends - among them Peter Kodick, Steve Dior and Eileen Polk. There's a new girl too - Michelle Robinson, Sid's going to clubs, drinking and popping pills. One night in a Manhattan disco called Hurrah's, he gets into a row with a man called Todd Smith, who takes exception to Sid trying to chat up his girlfriend. There's a fight. There's the sound of smashing glass. Peter grabs Sid and makes a human chain behind him. They get out before the police arrive. But Sid finds himself straight back in Rikers. There, he composes poetry about Nancy and mails them to her mother. Those letters from prison changed Deborah Spungen's opinion of Sid Vicious. Elsewhere the tide was turning too. Merberg was building a strong defence. McLaren was on his way back to America, ready to look out for Sid on his expected release on bail, with an album deal under one arm. But events took over. Sid's released from prison before McLaren can get there - and handed like a parcel to his mother, Anne. They arrive at 63 Bank Street: Michelle's flat. Eileen Polk is there. Howie Pyro and Jerry Only, friends of Sid's show up. They sit on the bed and listen to Sid's tales from Rikers. Then Jerry Nolan and his girlfriend arrive. Sid and Jerry start pestering Anne for money for drugs. Dinner is cooking. Sid plays air guitar to the New York Dolls. They eat. But then Peter Kodick and a friend turn up just before midnight. People start wandering around the flat looking for spoons. It's not long before the guests are once again around Sid's bed but this time he's overdosing. They walk him round the flat, fret about whether to call an ambulance. They don't. With Sid just about ok, the guests leave Anne, Sid and Michelle in the flat with a warning to keep Sid away from the rest of the heroin. By morning, Sid Vicious is face down and naked on his bed. At 21 years old. He is dead. NYPD records show that the heroin seized on the streets on New York that winter was cut down to between 32% and 36% pure. But Peter Kodick remembers that the wrap he'd bought for Sid that night was nearly 100% pure. The Rolling Stones were in town and Keith Richards didn't entertain anything that wasn't pure or practically uncut. Sergeant Richard Houseman, the first officer on the scene, recalls seeing two women in the flat. The younger - Michelle Robinson - was hysterical, the older - Anne Beverley - eerily calm. On February 7th 1979, Simon John Beverley that became John Simon Ritchie that was Sid Vicious was cremated after a low-key service in New Jersey. That same day, Anne Beverley, pulls up at the guarded gates of St David's cemetery in Philadelphia carrying her son's ashes. She can't get past the walls and the security. It starts to snow as she walks back to the car. But Anne hasn't left. She is driven to the back of the cemetery, climbs the wall and scatters the ashes on Nancy's grave. It is at this graveside in St David's Jewish Cemetery on the outskirts of Philadelphia, where Nancy Spungen - her hair dyed back to its natural chestnut brown, in her green high-school prom dress - was laid to rest aged 20 by her mother and where the 21-year-old Sid Vicious' ashes were scattered by his own mother. And it is here where Alan Parker's story comes to an end. Before she took a fatal pills overdose in 1996, Anne Beverley wrote to Alan Parker. In her letter, she asked him to prove that her son was innocent. 30 years later Who Killed Nancy pulls together all of the evidence on the story of Sid and Nancy. --© Official Site
News & Interviews for Who Killed Nancy?
Critic Reviews for Who Killed Nancy?
Audience Reviews for Who Killed Nancy?
½
An interesting documentary, with plenty of input, it's certainly backed up from Sid's side and it seems there weren't a lot of people out there who even liked Nancy, so it does come across a little bias.
Lady D'arbanville
Super Reviewer
Interesting, but is more about Sid than Nancy, and raises more questions than it answers.
Nicki Marie
Super Reviewer
MisterYoda ?
Super Reviewer
Who Killed Nancy? Quotes
There are no approved quotes yet for this movie.