The Wilby Conspiracy
(1975)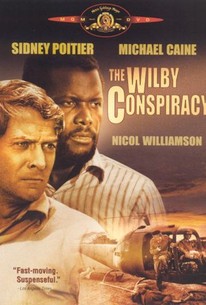 AUDIENCE SCORE
Critic Consensus: No consensus yet.
The Wilby Conspiracy Photos
Movie Info
The Wilby Conspiracy is set in South Africa, at a time when Apartheid was the order of the day. Political activist Shack Twala (Sidney Poitier) finds an unlikely -- and reluctant -- ally in the form of the British Keogh (Michael Caine). Both Twala and Keogh are scrutinized by racist police official Horn (Nicol Williamson), who hopes that they'll lead him to the hideout of chief activist Wilby (Joe De Graft). Based on the novel by Peter Driscoll, The Wilby Conspiracy abandons its sociological overtones early on in favor of an extended chase. The film reteams Poitier and director Ralph Nelson, who, 12 years earlier, had collaborated on Lilies of the Field.
Critic Reviews for The Wilby Conspiracy
Audience Reviews for The Wilby Conspiracy
½
As you would expect, "The Wilby Conspiracy" is unsurprisingly lean when it comes to storytelling, but that doesn't make it any less fun. It's an adventurous caper that's set in an interesting part of the world, which makes for some spectacular scenery, and overall, it works as good, mindless entertainment. There are some entirely irrelevant sequences (such as Shack's passionate exchange with Dr. Ray), which seem to be the result of 70s film making, but "The Wilby Conspiracy" is great in its own way. Generally, I prefer to be genuinely amused by a film than blown away by its artistic merit. Oh, and Nicol Williamson is great.
Stephen Earnest
Super Reviewer
½
(1975 Director: Ralph Nelson) An interesting movie which co-stars Sidney Potier and Michael Caine and an all-star cast. Aoartheid? S Africa? Hmmm... perhaps a little idealistic though I would actually say the cliche stereotypical characters offered quite a bit of satire throughout.
½
A darker performance by Sidney Poitier. A performance that requires Michael Caine to get a bit dirty. Williamson is persistent as the detective chasing these two. The other supporting roles are good. There are some surprises in this political thriller, but it is not very action packed or fast paced. This is not a culture or part of history that I am very familiar with, so I was confused at times, but I was intrigued to keep watching.
Byron Brubaker
Super Reviewer
The Wilby Conspiracy Quotes
There are no approved quotes yet for this movie.