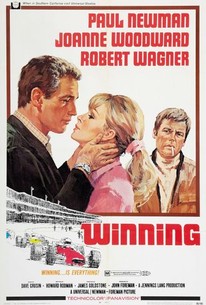 Winning
1969, Drama/Adventure, 2h 3m
9 Reviews
1,000+ Ratings
Rate And Review
Movie Info
Race car driver Frank Capua (Paul Newman) holds track victories above all else, but as he competes in the string of races that lead to motoring's crown jewel, the Indianapolis 500, he finds it harder to connect with wife Elora (Joanne Woodward) and stepson Charley (Richard Thomas). When he learns that Elora is sleeping with fellow racer Luther "Lou" Erding (Robert Wagner), Frank leaves the family, but plucky Charley decides he won't stand idly by as his family disintegrates.
Audience Reviews for Winning
Workaholic ("hiding from life") meets a small town single mom ("emotionally insatiable") and they get married. Wonder what she'll do when he's off overworking at the office ... with his "baby, he doesn't appreciate a beautiful girl like you" best friend? So goes the drama quotient here, kid stuff for Newman and Woodward, so what's the film about? Well, the office is a racetrack here, old school, Fords, Chevys, Pontiacs and Dodges, and tons of whack race footage. Me likey.

Excellent performers are stuck in this draggy inert drama. Both Newmans do their best and look great but this is a dull movie.
See Details