The Witches of Eastwick
(1987)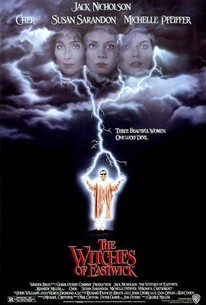 The Witches of Eastwick Photos
Movie Info
The Witches of Eastwick, a memorable comedy with a dark edge, is based upon a novel by John Updike. On Thursday nights three female friends -- Alex (Cher), Sukie (Michelle Pfeiffer), and Jane (Susan Sarandon) -- meet to chug martinis, learn Chinese aphrodisiac cooking and lament the scarcity of eligible men. As they sit around, they fantasize about and describe their idea of the ideal male. Arriving in town the following day is Satan, disguised as mysterious stranger Darrell Van Horn (Jack Nicholson). One by one, Van Horne seduces each of the women. Then, strange things begin to happen. When the town matriarch Felicia (Veronica Cartwright) publicly denounces Van Horne, she sustains a nasty compound fracture. When she forces her editor husband to publish a story about Van Horne's sexual antics, Darrell gets his revenge with revoltingly large amounts of cherries. The women now see that they may be in danger and begin to plot their escape. ~ Linda Rasmussen, Rovi
People Who Like this movie also like
News & Interviews for The Witches of Eastwick
Critic Reviews for The Witches of Eastwick
Audience Reviews for The Witches of Eastwick
½
Three headstrong single women in idyllic Eastwick wish for their dream beaux, and a devilish new stranger comes to town to seduce them in turn. Cher, Sarandon, and Pfeiffer are brassy, sensual, and sweet, respectively, and Jack Nicholson is the epitome of the diabolical wag. Daryl van Horne spouts some base misogyny, which has the potential to be clever and satirical if only there were some wink at the audience. The trio of women gets their revenge through sorcery, but they still raise Daryl's lovechildren and treat him as merely an exasperating, absentee father rather than quashing his sacrilegious doctrine, defeating him for good, or at least spurning him for the Satan proxy he is. Upon learning that this movie was adapted from a novel by John Updike, a writer I admire, I expected the hijinx to lead to something deeper. Is Daryl a Satan proxy or a God proxy? Daryl rants about how he gave the girls everything, and then when they forsake him, he will seek retribution. Isn't that the depiction of a vengeful and wrathful God? Is the satire on how often godliness and wickedness coincide? Well, apparently the original novel was intended as a feminist manifesto (even though the women are represented as actual witches), but there isn't much in the way of theological commentary, so I don't know what to make of book or film.
Alice Shen
Super Reviewer
½
The Witches of Eastwick is a highly entertaining comedy horror film that relies on a great cast of actors and well constructed script to make for a fun, exhilarating two hours. Jack Nicholson is great in his performance as the devil, and director George Miller who also directed the Mad Max trilogy. Although not a memorable film, The Witches of Eastwick is one of the better films dealing with witches. Compared to others that have tackled the subject, this film is much more entertaining. At times the film could have been better, and the script should have been polished a bit more, but overall the strong on-screen performances more than make up for its weak moments. Every actor here is great, and each brings something unique to the screen to make this a fun, entertaining ride. George Miller's direction is terrific, and it's an impressive transition from his previous work. This is a film that will most certainly delight fantasy and horror fans alike, as the film touches on both genres, and has some effective comedic bits throughout the film. This is a good film, that should have been great with its cast, but like I said, the weak aspects in the story just prevent this film from ever reaching its full potential. Nonetheless it's a film worth seeing despite its flaws. With its cast at hand and good direction, The Witches of Eastwick is a film that delivers a good two hours of entertainment, but some viewers may be wanting more out of this film. Enjoyable for what it sets out to do, and one of the better witch movies out there. This film is far better than The Craft or Hocus Pocus. The works well enough to reach above its flaws, and Jack Nicholson and the cast save the story from being a mess. Even with its weak moments, this film proves that George Miller is able to venture into different territory and make an amusing film.
Playing Old Nick must be highly appealing to an actor. It gives them the chance to let their darker side out and three of the most prestigious have done just that; Al Pacino gave it gusto in "Devil's Advocate", Robert DeNiro had a creepy stab at it in "Angel Heart" and this was Jack Nicholson's fun filled and menacing turn. Alex (Cher), Jane (Susan Sarandon) and Sukie (Michelle Pfeiffer) are three dissatisfied single women from the picturesque village of Eastwick, who laughingly try to conjure a man to fulfil all their desires. Soon enough, Daryl Van Horne (Jack Nicholson) movies into the town, but he will have a strange effect on each of them, granting them strange powers and as the lives of everyone in the whole town start to unravel, it becomes increasingly clear what Daryl's real identity might be. "Just your average horny little devil" is one of the first self imposed descriptions we get of Daryl Van Horne as Jack Nicholson revels in playing such a vibrant and perfectly suited character. That's not to say that the rest of the cast aren't impressive. They are. The three female leads are all perfect, particularly Sarandon with her transformation from shrinking violet to no-nonsense slut. Richard Jenkins, as usual, is able support as the quietly spoken local journalist and a special mention must go to Veronica Cartwright for her hilarious yet frightening turn as his possessed, churchgoing wife who sees Van Horne for what he is. Despite such a solid cast though, this is still the Jack Nicholson show. With every scene, he just chews up the screen and when his darker side is revealed, his performance only gets better, helping to forgive the fact that the shift in tone of the film is slightly uneven. It ranges from fantasy, through comedy, to horror. It's a transition that won't appeal to all and the special effects suffer slightly also. However, there's that much fun to be had with this film that it's hard to pick holes. Movies are to be enjoyed and this is a film that has fun and excitement in abundance, helped by a great supporting cast and a dynamic performance by Nicholson, in a role that ranks as one of my favourites from him.
Mark Walker
Super Reviewer
The Witches of Eastwick Quotes
There are no approved quotes yet for this movie.