Without a Paddle: Nature's Calling
(2009)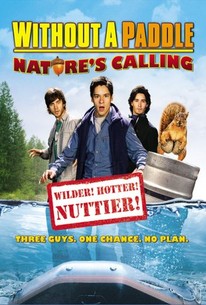 AUDIENCE SCORE
Critic Consensus: No consensus yet.
Without a Paddle: Nature's Calling Photos
Movie Info
Two best friends and a British nature enthusiast set out on a wilderness adventure they'll never forget in this sequel to the rowdy 2004 comedy Without a Paddle. Upon venturing into the woods in search of a high school sweetheart, a pair of best buds (Oliver James and Kristopher Turner) is joined by a wild Brit (Rik Young) who couldn't resist the call of the wild. As the stakes get higher and the squirrels turn hostile, the hapless trio attempts to navigate a raging river while realizing that sometimes nature isn't all it's cracked up to be.
Critic Reviews for Without a Paddle: Nature's Calling
Audience Reviews for Without a Paddle: Nature's Calling
Not enough laughs, but a bit hilarious in this crazy adventure trip sequel, as well as I see the squirrels aren't real (made in CGI) like when these are going to growl and attack onto strangers.
Dean McKenna
Super Reviewer
Without a Paddle: Nature's Calling has nothing at all to do with the first movie. This movie revolves around a guy who meets a vegetarian animal-rights crusader while on the first day of high school, she gets expelled the second day before she can so his 'cool' homemade 'Meat is Murder' T-shirt. Anyways his little friend, who works in a nursing home, accepts the dying wish of an ancient old lady to find her grand-daughter, whom winds up being, little Mizz Feminist crusader. So he, his friend, and a snotty English guy with ulterior motives travel to her last known whereabouts deep in the rain-forests. This movie was atrocious, the joke aren't just easily telegraphed, they're also massively unfunny, the acting is sub-standard and I didn't give a toss about any of the characters involved in the least. Also Jerry Rice was a great football player, and as an actor he was a great football player. That was seriously painful to watch.
Steven Vincent Gee
Super Reviewer
½
The best thing about this film was the boob jokes and the crazy squirrles..thats about it...I gave it a 2 1/2 because I did laugh out loud once or twice but mostly at the total stupidity...and all the damn enviromental preaching got right on my nipple ends....shame. I quite enjoyed the first one.
Barry Lappin
Super Reviewer
Without a Paddle: Nature's Calling Quotes
There are no approved quotes yet for this movie.