Wrong
(2013)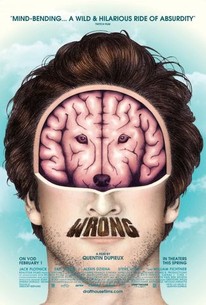 Movie Info
Dolph Springer (Reno 911's Jack Plotnick) awakens one morning to find he has lost the sole love of his life - his dog, Paul. Desperate to reunite with his best friend and to set things right, Dolph embarks on a journey which spirals into the realm of the absurd. On his quest, he drastically alters the lives of several severely bizarro characters, including a promiscuous pizza delivery girl (Entourage's Alexis Dziena), a mentally unstable, jogging-addicted neighbor, an opportunistic French-Mexican gardener, an eccentric pet detective (Steve Little of HBO's Eastbound And Down) and most mysterious of all, an enigmatic pony-tailed guru, Master Chang (William Fichtner) who imparts his teachings to Dolph on how to metaphysically reconnect with his pet. From fearless cinematic surrealist Quentin Dupieux, the director behind the head-exploding Rubber, Wrong is a wholly original and hilariously hallucinatory universe all its own. (c) Drafthouse
Rating:
NR
Genre:
,
Directed By:
Written By:
In Theaters:
On DVD:
Runtime:
Studio:
News & Interviews for Wrong
Audience Reviews for Wrong
½
In "Wrong," Dolph(Jack Plotnick) is having a bad start to his day. To start with, his dog has gone missing. Then, his palm tree has mutated into a pine tree. His gardener Victor(Eric Judor) says he can fix the problem but it will cost $500. On the plus side, Emma(Alexis Dziena) takes a liking to Dolph after he calls the pizza place where she works to complain about the lack of logic in the company's mascot. So much so, that she sends him a free pizza with a note inside. Look, I understand if Quentin Dupieux's films are not for everyone. But I think his brand of surrealism works well in this story of an office drone whose life and routine get shaken up more than a little which is a good thing, considering he still goes to work everyday even though he was fired months ago.(Sort of like Gregor Samsa when he got turned into an insect which Franz Kafka thought was funny because he still worried about getting to work.) Another way of looking at "Wrong" is how weird the world really is and how we should really just sit back and enjoy it.
Dolph wakes up to find his dog missing; to find him he'll have to deal with a neighbor who's in denial about his own jogging, an overly-attached pizza delivery girl, a detective who focuses on finding the dog's stool sample, and other bizarre characters. Dolph keeps going to his job everyday despite the fact that the indoor sprinkler system runs constantly and he was fired months ago; all of the jokes are like Monty Python members' dreams, played straight. This style of comedy will be intolerable for many, but it's an interesting ride if you can get into the spirit.
½
Things aren't going too well for Dolph Springer (Plotnick). His dog has been kidnapped, his palm tree has turned into a pine tree, and his gardener (Judor) is posing as him to have sex with the pizzeria receptionist (Dziena) who's fallen for his voice over the phone. On top of all this, he still turns up to his office, where it constantly rains indoors inexplicably, despite being sacked three months ago. Welcome to the world of Quentin Dupieux, the mad Gaul who first came to public attention with a late nineties Levi's commercial featuring a head-banging puppet named Flat Eric (who makes a small cameo here). If you thought Dupieux's previous feature 'Rubber', the story of a tire with the power to make heads explode telepathically, was absurd, his latest will really have you scratching your cranium. Unlike that film, which was essentially a pun stretched to feature length, 'Wrong' actually has something approaching a narrative, and, crucially, a lot of laughs. He may hail from France, a nation often mocked for its lack of humor, but Dupieux has probably made the best American comedy you'll see all year. It's certainly a welcome respite from the "mumblecore" dramedies so beloved by the American indie set. Absurdist humor can be painfully unfunny in the wrong hands. The Coens, Terry Gilliam, and Charlie Kaufman have all failed for one specific reason: they try too hard. David Lynch can pull it off because he is genuinely insane and, as a result, his surreal humor flows naturally. Dupieux, who not only directed but wrote, shot, cut and scored his film, may well have a screw loose as the gags in 'Wrong' are completely off the wall but never feel forced. Here, the situations are absurd but the characters are deadpan, unlike say, a Coen Brothers film which would employ exactly the reverse approach. Comedy is far more effective when the audience understands the joke better than the participating characters. Ninety percent of viewers will no doubt find all this infuriating but if you're a fan of comedy that manages to be incredibly clever about being incredibly stupid, 'Wrong' will provide an entertaining ninety minutes.
The Movie Waffler
Super Reviewer
Wrong Quotes
| | |
| --- | --- |
| Victor: | I don't know how it happened, or why, but the palm tree is... no longer a palm tree. |
| Victor: | I don't know how it happened, or why, but the palm tree is no longer a palm tree. |