Wrong Turn
(2003)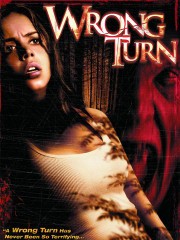 Wrong Turn Trailers & Photos
Movie Info
Chris has a job interview in Raleigh in three hours and he's making good time--until an accident miles down the highway turns Chris' manageable trip into a six-hour wait. Determined to make his critical appointment, Chris makes a hard U-turn and heads back up the West Virginia highway. Running low on fuel, he finds a shortcut, it's clearly a road less traveled, but to Chris it seems to be a quick fix to avoid the traffic jam. Not far away, Jessie and her friends, Carly, Scott, Evan and Francine, stand quietly--stunned as they survey what's left of their road trip after the tires blow out on their SUV. They've been left stranded, deep in the middle of the woods. Chris heads down the dusty road, accidentally hitting the SUV along the way, scattering the foursome around it. Luckily no one is seriously hurt in the collision, but egos are bruised and tempers flare. Chris is apologetic, and Jessie is the calming force when she discovers that the reason they're in their predicament is that barbed wire had been stretched across the road. Therefore, their blown out tires were seemingly the result of a prank. The group quickly bands together, determined to find a phone. Evan and Francis stay with the cars, as the other four make their way down the road. As they venture deeper and deeper into the woods, the assumed idea that the trap was set by a prankster grows dim upon their discovery of a mountain cabin filled with grisly hunting weapons and horrific souvenirs of the hunt. They are now certain that whomever--or whatever--lives in the cabin is responsible for the barbed-wire trap that derailed their trip. What the foursome doesn't know, however, is that Evan and Francine are now dead, mercilessly mutilated by three gruesome mountain men. Facing an uncertain and possibly horrific fate at the hands of these men, the four friends are sure of one thing: they will never go camping again.
more
Watch it now
Cast
News & Interviews for Wrong Turn
Critic Reviews for Wrong Turn
Audience Reviews for Wrong Turn
Directors Cat
Super Reviewer
Very unrealistic, it moves too fast and has really poor acting. Might get a scare or two out of you, but that's about it.
Scott: We are never going into the woods again!

"It's the last one you'll ever take."

Wrong Turn is easily the most unoriginal horror film I have ever had the displeasure of watching. The plot steals ideas from The Texas Chainsaw Massacre, lines from The Blair Witch Project and ends up basically being the ReRemake of The Hills Have Eyes. If you don't know what's going to happen next, you've probably never seen a horror film. If you are disturbed by this material, you have never seen a well done horror film. If you like this; either A, you are 12 years old and think every movie labeled horror that you see makes you a badass or B, you don't watch many movies. This movie is extremely unlikable and the scariest thing about it is that it doesn't feature Eliza Dushku's worst performance. Yeah, she has been worse. Watch The Alphabet Killer and you'll see what I mean.

The acting isn't really even worth talking about. It's one of those movies where you don't care about the characters. I want the guys to die quickly and leave the very attractive girls for last. Yeah they are horrible actresses, but damn. Then I want the girls to have a nice lesbian scene(never happens), then they can dies. I'm not a pervert, but it is the only thing that would make the movie at all interesting. The characters are dull and stupid and the plot has been done before; what else should be looking forward to.

The sad thing is that it seems like director Rob Schmidt thinks he is shocking and disturbing. I don't think that's true, but at least it seems that way. He has to know everything about this movie has been copy-pasted from better movies. It actually turns out to be pretty offensive to horror fans. He thinks we are going to enjoy this. He was sorely mistaken.
Melvin White
Super Reviewer
Discussion Forum
Discuss Wrong Turn on our Movie forum!
News & Features