Yeelen (Brightness)
(1987)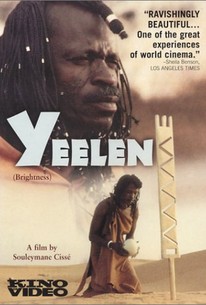 Yeelen (Brightness) Photos
Movie Info
Filmed in the African country of Mali, Yeelen (Brightness) weaves several Kenyan folk stories into an engaging framework. The hero is a young boy whose father is an evil magician. Marked for death by his long-absent papa, the boy bids goodbye to his mother and heads for the hills. En route to his kindly uncle, our hero utilizes his own conjuring skills for the benefit of those less fortunate than himself; he also rescues a king from being deposed. ~ Hal Erickson, Rovi
Critic Reviews for Yeelen (Brightness)
Audience Reviews for Yeelen (Brightness)
Yeelen is a magical tale full of the rich history of Mali brought very effectively to life given the inevitably small budget. It is the earliest film that I have seen for the region and was inevitably the inspiration for other film makers from Northwest Africa.
John Ballantine
Super Reviewer
½
[font=Century Gothic]In "Yeelen", Niankoro(Issiaka Kane) and his mother(Soumba Traore) have been on the run from his father, Soma(Niamanto Sanogo), for the past ten years. But now he is quickly closing in.(Niankoro, now a young man, is like his father, a wizard.) Partially out of desperation, his mother formulates a plan where her and her son are to split up. While she petitions help from higher powers, she gives him a fetish and glass pyramid to give to his uncle, so he can reconcile father and son.[/font] [font=Century Gothic][/font] [font=Century Gothic]"Yeelen" is a resplendently spiritual movie about the world changing which is personified in the conflict between father and son. Soma perhaps rightfully fears his son becoming more powerful than him and taking his place, and seeks to stop his ascension. In the meantime, Niankoro has power but not quite the knowledge of the world to go along with it.[/font]
Yeelen (Brightness) Quotes
There are no approved quotes yet for this movie.