You Don't Know Jack
(2010)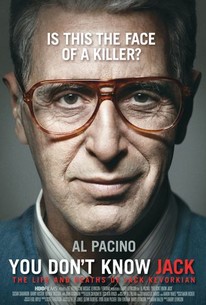 TOMATOMETER
AUDIENCE SCORE
Critic Consensus: Led by strong direction from Barry Levinson and outstanding work from Al Pacino, You Don't Know Jack makes compelling viewing out of real-life drama.
You Don't Know Jack Photos
Movie Info
Al Pacino stars as Dr. Jack Kevorkian in director Barry Levinson's made-for-HBO biopic tracing the controversial career of the outspoken assisted suicide advocate/activist. Convinced that "dying is not a crime," Dr. Kevorkian (aka Dr. Death) creates a machine that allows terminally-ill medical patients to end their own lives in a peaceful, humane manner. When Dr. Kevorkian is forced to defend his philosophy and practices in court, a media firestorm erupts over a patient's right to die. Susan Sarandon, John Goodman, and Danny Huston star in a film produced by Scott Ferguson (The People vs. Larry Flint, Brokeback Mountain), and written by Adam Mazer (Breach). ~ Jason Buchanan, Rovi
Critic Reviews for You Don't Know Jack
Audience Reviews for You Don't Know Jack
½
You don't Know Jack is a well crafted biopic on Jack Kevorkian, the assisted suicide advocate who was charged on murder for killing his patients. With this film we get the reasons as to why he did what he did, but I won't go into detail on the issues that the film presents, but what we have here is a well acted drama with a great cast of actors who truly deliver some stunning performances. In the lead role is Al Pacino, and he delivers one of his finest performances in a long time. The film tells an important story, one that can actually raise important questions in the viewer. Brilliantly directed, and well paced, the film is a stunning drama that is a worth seeing. Pacino is a great choice for playing Kevorkian, and this ends up being an engaging drama that will make you think. The film follows Jack Kevorkian as he tries to help people end their suffering by assisted suicide right up to his trial for murder. This is a well directed picture about a serious issue, and director Barry Levinson crafts something truly unique here. The film is never dull or boring because the cast are really good and the story well structured. No matter your feelings on the subject, the film is a must see do the fact that Al Pacino gives a standout performance that just bristles with energy. I really enjoyed the film and thought it was a terrific picture from start to finish. The writing here is terrific, and the film is one of the most memorable and entertaining dramas in recent memory. You Don't Know Jack is a well crafted picture that in the end, might make you ask some important questions, and it's a film that will stay with you long after you've seen it.
½
One of the beauty's of this film is that it does question one very important topic: If someone wants to die, should they be allowed to? Well, Jack Kevorkian thinks so if it is the pacients choice in the matter by offering assisstant suicide. Al Pacino give a performance, playing the doctor, so much power that you really think that this is the actual man playing himself, and not some actor. The direction of the film, along with the script and acting, is beyond powerful. The only downfall is that the score was uninspiring. Most of the time, you do not notice the score and when you hear it, it is not that good. But, the others are so good that this film is required. I recommend this film if you are into biopics, love films that are about people that challenged the law, and above all else, want to see a powerful performance from Pacino.
Zach Brehany
Super Reviewer
½
Euthanasia (aka 'mercy killing') has been a debatable issue for quite a long time & I guess it will remain so. There are some people in its favor & most people against it. When someone applies for it, that person doesn't do it for fun or to have a novel experience (there may be exceptions here: like some fool doing so for gaining attention). They do so because their pain has become unbearable & there's no cure available for it. If there are two persons suffering from Quadriplegia & one of 'em asks for euthanasia while other one makes no such demand, people usually say that if the other can survive, why not the other. They forget that everyone don't have same capabilities. It's easier to say that if you try, you can also survive like the others. But they fail to understand that that person would have done so if he/she too was capable for it (to suffer the pain). One mostly asks for it when their pain has gone beyond their suffering limit & there seems to be no hope of cure whatsoever (however, as mentioned above, there are exceptional cases). The movie focuses on this issue & shows why it's not bad. In a way, I felt that it was biased. It is shown from the viewpoint of Dr. Jack Kevorkian & it hardly takes opposer's (those who are against Euthanasia) opinion into consideration. While being in favor of euthanasia myself, I'd have liked the movie more had they left it to the viewer to decide whether it's good or bad, & not shown more pros than the cons of euthanasia. For most of the part, if not all, the movie portrays Dr. Jack Kevorkian as a hero. That's another thing I didn't like about the movie. However, if real Dr. Jack Kevorkian was the same as the character Dr. Jack Kevorkian in the movie, I bow to him. Al Pacino fluently played the role of Dr. Jack Kevorkian. The rest of the cast is also impressive. Check it out if if, like me, you're also interested in 'Euthanasia' & movies based on actual events.
familiar stranger
Super Reviewer
You Don't Know Jack Quotes
| | |
| --- | --- |
| Dr. Jack Kevorkian: | You don't charge people for something like this. What's wrong with you? |
| | |
| --- | --- |
| Dr. Jack Kevorkian: | When a law is deemed immoral by you, you must disobey it. |