Your Name Here
(2008)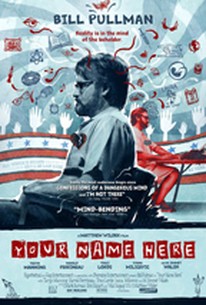 AUDIENCE SCORE
Critic Consensus: No consensus yet.
Movie Info
A thinly veiled, unsanctioned biopic of author Phillip K. Dick, first-time writer/director inventive feature debut follows the story of acclaimed science fiction author William J. Frick as he experiences a massive stroke that sends him on a fantastic journey into his own imagination. It's the summer of 1974, and author Bill Frick (Bill Pullman) is living in squalor. Despite having a sizable reputation as a sci-fi visionary, Bill doesn't have so much as a penny to his name. Nevertheless, he's determined to finish his latest masterpiece - an ambitious tome inspired by beautiful actress Nikki Principal (Taryn Manning). Bill has formed something of an obsession with Nikki as of late, and after ducking a meeting with a persistent IRS agent, he suffers a sudden stroke that renders him trapped in a limbo world with his favorite actress. There, Nikki informs Bill that his latest literary work has the power to change the world. Upon gazing out his window to see murals and statues of himself spread out across the sprawling cityscape, Bill realizes that he has finally achieved his goal of becoming a God among mortals. But not everyone worships the pages that Bill writes on; there are those like the nefarious Maurice Kroger (M. Emmet Walsh) who would wield Bill's knowledge and power as a weapon designed to help them further their own malevolent agenda. Just then Bill begins to realize that he's not living in reality at all, but in a wondrous world of his own making. Harold Perrineau, Charles Napier, and Traci Lords co-star.
Critic Reviews for Your Name Here
Audience Reviews
There are no featured reviews for Your Name Here at this time.
Your Name Here Quotes
There are no approved quotes yet for this movie.