Zombies Lake
(1980)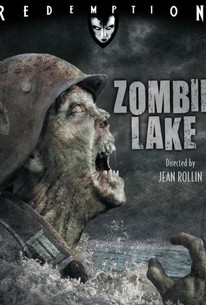 Movie Info
Nazi storm troopers who were killed in an ambush by villagers during WWII remain in the town's lake. They prey on unsuspecting young swimmers.
Critic Reviews for Zombies Lake
Audience Reviews for Zombies Lake
Aquatic Nazi zombies kill nubile French women who skinny dip in their lake home. That plot may sound impossible to screw up, but this plodding exercise in misplaced exploitation focuses more on the dramatic relationship between one zombie and his illegitimate daughter (!)
½
A high toleration for bad movies is required if you're to make it through this one as it's probably one of the worst zombie movies I've ever seen, and it even had director Jean Rollin cringing with embarrassment upon its completion. The actual zombies look and act laughable with an almost illuminous green make-up applied to the skin. There's no gore to speak of and the plot is just silly. As with the majority of the directors other films there is a healthy supply of naked ladies to feast your eyes on as they take a dip in the enticing lake only to then get munched upon by the nazi zombies lurking below. Only recommended to those who are curious to see how bad it all is.
½
To jump right in on this one. "Zombie Lake" is a film that is completely inept on all levels but its also very entertaining to watch and is chock full of unintentional giggles derived from the stupidity. At least its never boring. Its rather shocking that the film is as lousy as it is, considering the amount of b-movie talent involved. Jean Rollin is well known for creating beautiful and stylish horror films that are full of dream like atmosphere, as is the original director Jess Franco. This is far from Rollin's most artistic project ( I figure he was called in on this one and needed a quick rent payment) An obvious lack of care or quality is everywhere in the film. For the zombie attacks, the soundtrack is full of highly inappropriate lounge music (a lot of which I recognized from Jess Franco's "Female Vampire"). The script is chock full of holes and lacks anything resembling logic (naked girls run into bars where the men are more interested in their safety, a dead Nazi's daughter is only 12 despite the fact the film takes place in the 70s (no one seems to age), to mention a few lapses of thought). Not to mention the Zombie makeup - I've seen kids fashion more convincing Halloween costumes. Also, the direction and editing are horrible - if you watch some of the scenes, you can clearly see the extras trying to hold back their giggles. I didn't - I laughed my head off throughout this entire hunk of junk. "Zombie Lake" is a truly great piece of schlock that provides more entertainment value than any recent Oscar winner. This is a so bad its good movie all the way.
David Ladd
Super Reviewer
Zombies Lake Quotes
There are no approved quotes yet for this movie.