Day 2: 1:00 PM-2:00 PM
EPISODE: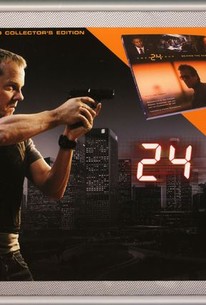 Episode Info
Palmer (Dennis Haysbert) promises a full investigation of the ambassador's chopper crash. Sherry (Penny Johnson Jerald) shows up, and tells him that military personnel are being evacuated from L.A. Lynne (Michelle Forbes) finds out it's true. The military was being evacuated against Palmer's orders. Palmer confronts Stanton (Harris Yulin), who claims he was doing it based on earlier orders he got from Rayburn. Palmer agrees to meet with Sherry, and tells her about the terrorist plot. She won't reveal her source, but says she wants to help him, and she's heard that people within his own administration are conspiring against him. Nina (Sarah Clarke) gets her presidential pardon, and, interrogated intensely by Jack (Kiefer Sutherland), says that she has to meet her contact in Visalia. Jack takes Nina there, but Mason (Xander Berkeley) sends another agent along to protect Nina. Nina tries to manipulate the situation to her advantage, but Jack has his own plan. Kate (Sarah Wynter) tries to explain her actions to Marie (Laura Harris), who won't accept her explanation. When Tony (Carlos Bernard) threatens to arrest Reza (Phillip Rhys), Reza tells him that any transactions he made were to cover for Bob (John Terry). Gary (Billy Burke) is plotting to take Megan (Skye McCole Bartusiak) from the hospital and run away with her, but Kim (Elisha Cuthbert) and Miguel (Innis Casey) manage to thwart his plan, and escape with the girl.
Day 2: 1:00 PM-2:00 PM Photos
Discussion Forum
Discuss 24 on our TV talk forum!