Blue Bloods: Season 3
(2012 - 2013)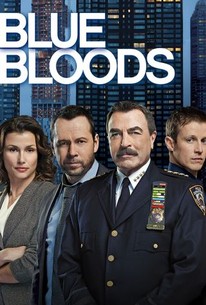 Rate And Review
Blue Bloods: Season 3 Photos
Tv Season Info
The third series of this family cop drama finds Jamie (Will Estes) assigned a new partner: brash Vinny Cruz (Sebastian Sozzi), who isn't quite as by-the-book as Jamie is. Before long, his big brother Danny (Donnie Wahlberg) finds himself in a similar situation when his longtime partner Jackie (Jennifer Esposito) decides to quit the force, leaving Danny to team up with several new partners throughout the series. Erin (Bridget Moynahan) is faced with a blast from the past when her ex-husband comes back to town and squares off against her as opposing council in the courtroom. Danny also finds himself crossing paths with his spouse, Linda (Amy Carlson), now that she's returned to her job as a hospital nurse. Also on the domestic front, Frank (Tom Selleck) tries to convince his father (Len Cariou) that it's time to stop driving for safety reasons. By series's end, Frank must also worry about the safety of his officers when a powerful gang declares war on the police department.
Audience Reviews for Blue Bloods: Season 3
CBS's hit crime drama Blue Blues has a rocky third season but continues to deliver compelling stories. In a spectacularly idiotic move CBS fires Jennifer Esposito, which throws off the character dynamics and leads to a very uneven series of episodes where Det. Danny Reagan switches from mismatched partner to mismatched partner. Still, the story arcs of the other family members work pretty well; Jamie takes on a new partner, Erin gets promoted in the D.A.'s office, and Frank continues to butt heads with the mayor. Additionally, the cases-of-the-week tackle some interesting topical issues. Despite some missteps, Season 3 of Blue Bloods is entertaining and provocative.

This is my favorite show!

The show hasn't changed one bit in 3 years, besides perhaps adding more conservative talking points.