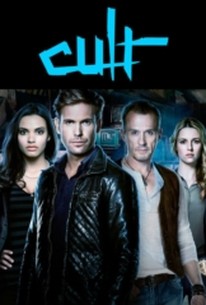 TOMATOMETER
AUDIENCE SCORE
Critic Consensus: Ambitious but convoluted, Cult is an overly complicated thriller that has some intriguing moments but mostly keeps the audience at arm's length.
Tv Season Info
The CW series "Cult" stars Matthew Davis as Jeff Sefton, an online reporter who dedicates himself to finding his brother when the sibling goes missing. He follows the clues and discovers that a small group of fans of a fictional TV show called Cult may be committing horrible crimes related to their favorite show. Jeff teams up with Skye Yarrow (Jessica Lucas), who works on the series to uncover the truth. Meanwhile, there is drama on the set of the show-within-the-show as the nefarious, mysterious organization begins to set their sights on Roger Reeves (Robert Knepper), one of the program's most prominent actors. The season maintains an ongoing mystery on the show-within-the-show as well.
Audience Reviews for Cult: Season 1
In the age of streaming, DVRs, and On Demand, networks still aren't getting it! Even the best and most innovative TV show to come along in years isn't going to survive, if you debut it with minimal advertising in the middle of the summer! This is the reason why Cult didn't last and why it isn't currently the top rated show on the CW network. The wildly creative idea was the brainchild of Farscape's Rockne S. O'Bannon and took nearly a decade to come to television. Cult is a TV show within a TV show, that features a cult, within a cult, I will attempt to explain. The show Cult is centered around a fictitious show called Cult. That fictitious show is centered around an FBI agent (Alona Tal) who lived her whole life in a cult, only to escape and join the FBI, with the hopes of locking up her old family for the abuses she endured. In retaliation, the cult has abducted her sister, brother-in-law, and nephew, who she is attempted to rescue. Back to the "real" Cult, the fans of this fictitious show, claim to see hidden messages in the show, that lead them to commit crimes on behalf of the shows mysterious creator, a man no one has ever met. One such crime is to kidnap Nate Sefton (James Pizzinato), the younger brother of a reporter, Jeff (Matthew Davis). Jeff makes it his mission to investigate these followers of cult, to find his brother, and to figure out what their up to, but he needs help. Jeff recruits Skye Yarrow (Jessica Lucas), a researcher on the show, whose father, was also a reporter, who disappeared fifteen years ago, while attempting to investigate the same man who created this TV show. Every episode is a wild ride into an underworld that has existed for decades, that no one knew anything about, and as always is the case with shows like this, each episode is better than the one before it, as it builds up to an epic conclusion. This is the kind of show that had so many original ideas and so much material it could have gone on for years. Cult would have appealed to main stream audiences across every demographic and (pun intended) would have garnered a huge cult following, if it wasn't for the CW. I remember when this show premiered, the CW literally started to advertise for it a week before it aired, and then rarely after that. Cult was on Tuesday nights in the middle of the summer, when lets face it, most people are out enjoying the nice weather. Since the show had no previous exposure, there was no reason for anyone to watch on demand or even DVR it, so it was cancelled. It just doesn't make sense to me, why even spend the money and make the show if you're not going to give it a real chance? If this show debuted on the fall line-up after Supernatural, the ratings would have been enormous, the show would still be on! You have a terrific young cast playing duel roles, an experienced creator, with a team that's already had success with Seaquest, Farscape, and Alien Nation, there was no reason to bury this show, but a las, Cult met it's fate after just thirteen episodes, which are currently streaming on Netflix. For all my followers who claim they have nothing to watch, here is 13 hours of some of the most imaginative and creative writing you will ever see on TV, add Cult to your queue and start watching tonight!!!
Discussion Forum
Discuss Cult on our TV talk forum!