Bullock Returns to the Camp
EPISODE: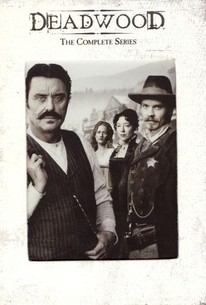 Episode Info
Seth (Timothy Olyphant) and Charlie (Dayton Callie) manage to track down Jack McCall (Garret Dillahunt). After dealing with him, they head back to Deadwood. A young brother and sister, Miles (Greg Cipes) and pretty Flora (Kristen Bell of Veronica Mars), arrive in town, looking for their long-absent father. Unable to find him, Miles takes a job sweeping up at the Gem from an unusually generous Al (Ian McShane). Dan (W. Earl Brown) takes a particular interest in Flora, as does Joanie (Kim Dickens), when Flora makes her way across the street to look for her father at the Bella Union. Surprisingly, while she declined to take work as a prostitute at the Gem, she seems willing to have Joanie take her under her wing. Al calls Trixie (Paula Malcolmson) back to the Gem after noticing Alma's (Molly Parker) apparent sobriety on her way to her husband's funeral. Trixie admits to helping Alma get off dope, claiming it was for the sake of the little girl (Breeseanna Wall). E.B. (William Sanderson) finally realizes that Al wants Alma's claim back because there's gold there, and convinces Al to offer him a percentage to get Alma to sell. Andy (Zach Grenier) has nearly fully recovered thanks to the ministrations of Doc (Brad Dourif) and Smith (Ray McKinnon), but mostly thanks to Jane (Robin Weigert). He returns to the Bella Union to get his things, but rejects Cy's (Powers Boothe) offer to start working together again. Seth returns to town. Having been unable to find someone to assay Alma's claim, he decides to ask Al for a recommendation. "Get his opinion, too," Sol (John Hawkes) tells Seth, "who should guard that henhouse we're gonna build." Trixie angrily confronts Alma about putting her own desires above the welfare of the child.
Bullock Returns to the Camp Photos
Discussion Forum
Discuss Deadwood on our TV talk forum!