A Lie Agreed Upon, Part I
EPISODE: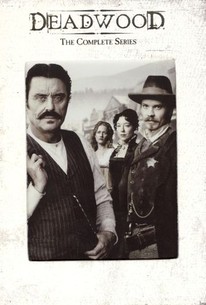 Episode Info
Martha (Anna Gunn) and William Bullock (Josh Eriksson), Seth's (Timothy Olyphant) wife and son, make their way to the camp in a coach accompanied by Maddie (Alice Krige), Joanie's (Kim Dickens) new partner in an upscale brothel. In Deadwood, Seth is dealing with a shooting at the No. 10, involving a prank that went wrong. Al (Ian McShane) is angry to learn that the feds have appointed three commissioners to oversee the territory, and all of them are from Yankton. He expects Seth to be playing a prominent role in the camp's future, and is disappointed that Seth seems preoccupied with the worst-kept secret in camp -- his affair with Alma (Molly Parker). Al expresses his disappointment to Seth in the crudest terms, and from the balcony of the Gem, prompting Seth to pay a visit. Al questions Seth about why Alma is sending her gold out of town instead of putting it to use in the camp, but it's too late for rational conversation. Seth is insulted, and is determined to fight with Al. Their brutal combat is interrupted by the arrival of the coach, but not before Dan (W. Earl Brown) intervenes, prompting both Sol (John Hawkes) and Charlie (Dayton Callie) to take a run at Johnny (Sean Bridgers), who, unfortunately, wields a shotgun. Cy (Powers Boothe), meanwhile, is less than thrilled at the new arrivals in camp -- Maddie and her new whores -- and enraged that Joanie did not notify him of her plans, finding another backer for her move. "It's kill you or let you go," Cy tells her as he bitterly mulls his options. "Could I make it with you dead?"
A Lie Agreed Upon, Part I Photos
Discussion Forum
Discuss Deadwood on our TV talk forum!