Desperate Housewives: Season 7
(2010-2011)
SEASON: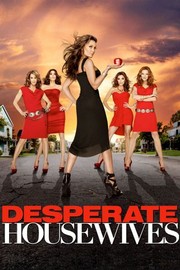 TOMATOMETER
——
Average Episode Score:
N/A
——
Average Episode Score:
N/A
AUDIENCE SCORE
Critic Consensus: No consensus yet.
Episodes
Air date: Sep 26, 2010
The seventh series of Desperate Housewives comes to Channel 4. In the opening episode, the residents of Wisteria Lane are stunned to discover that Paul Young is out of prison and back in the neighbourhood with an enigmatic new wife and seemingly dark motives. Meanwhile, while Paul is renting Susan's home, she, Mike and MJ are living in an apartment on limited funds. But Susan sees a glimmer of hope in getting her life back on the Lane when she's offered an unorthodox job. Lynette's rich and successful college friend, Renee (played by Ugly Betty actress Vanessa Williams), pays an unexpected visit to the Scavo household; Gabrielle and Carlos find themselves keeping secrets from one another; and a newly single Bree, needing a fresh start after selling her business, finds herself tempted by Keith, the handsome, young handyman she's hired to update her house. Please note that first look episodes air on E4 on Wednesdays.More
Air date: Oct 3, 2010
When Renee begins to spend a lot of time with Tom, Lynette thinks she's trying to sabotage their marriage; Bree fires Keith without warning when she suddenly finds herself falling for him; Susan is wracked with guilt after lying to Mike about her new, risqué side job; Gabrielle rushes to the hospital after Bree accidentally hits Juanita with her car; and Paul introduces the women of Wisteria Lane to his new wife.More
Air date: Oct 10, 2010
Susan discovers that some of her sexy internet show moves are being copied by a competitor; Gabrielle hires a private detective to investigate an important matter, unbeknownst to Carlos; Lynette is stunned when Tom's doctor prescribes a rather unorthodox remedy for his depression and Renee invites a reluctant Bree to go clubbing with her.More
Air date: Oct 17, 2010
Susan is horrified to discover that she has become the face of the provocative internet company she's been secretly working for and is now the cover model for their adverts; Gabrielle tells her secret to her neighbours; Renee finds out that Bree is a grandmother and tries to steal Keith away from her; and Paul buys the home he shared with Mary Alice, against his wife Beth's wishes.More
Air date: Oct 24, 2010
Susan's days as a sexy internet sensation may be coming to an end after she angers an important client and incurs the wrath of her boss, Maxine; Renee and Gabrielle are headed for a smackdown after each of them reveals an intimate secret about the other to the wrong people; Bree finds herself exhausted by younger lover Keith's sexual stamina; Lynette is angry with Tom after he asks his mother to become the baby's nanny without talking it over with her first; and housewife Emma Graham puts on a cabaret show.More
Air date: Oct 31, 2010
As Halloween nears, Susan tells Mike about Va-Va-Broom; Juanita becomes suspicious of her mother's interest in Grace; Lynette worries about her mother-in-law's memory lapses; Bree learns a secret about Keith; and Paul is encouraged to take Beth on a date to heat up their unromantic marriage.More
Air date: Nov 7, 2010
Renee has a job offer for Lynette while Susan reluctantly accepts Lynette's offer to be Paige's nanny; Bree is reluctant to tell Keith that she's beginning menopause; Bob strikes up a friendship with Carlos; and Beth begins to suspect Paul's motives for returning to Wisteria Lane.More
Air date: Nov 14, 2010
Thanksgiving on Wisteria Lane: Gaby and Carlos discover surprising things about the Sanchezes that could threaten their time with Grace, while Bree learns some of Keith's family secrets over dinner with his parents (John Schneider and Nancy Travis). Meanwhile, Susan butts heads with Lynette over her sleep-training techniques for baby Paige; Renee keeps reminding Tom about their past; and Beth tries to learn more about Paul's past.More
Air date: Dec 5, 2010
Gaby desperately seeks a way to keep Grace in her life; Keith plans a special dinner with Bree; Tom's angry at Lynette for not telling the other housewives about his special attributes; Renee tells Susan a secret; Paul's Wisteria Lane plot emerges.More
Air date: Dec 12, 2010
Paul's nefarious plan for Wisteria Lane takes effect; Juanita discovers Gaby's secret; Bree invites Keith to move in with her; and Tom is confronted about a past indiscretion with Renee.More
Show More Episodes
Desperate Housewives: Season 7 Trailers & Photos
Tv Season Info
The seventh series of "Desperate Housewives" introduces a new housewife, Renee Perry (Vanessa Williams) and also marks the return of Paul Young (Mark Moses), the husband of the deceased Mary Alice (Brenda Strong). Paul brings with him a new wife, Beth (Emily Bergl) and questionable motives. Meanwhile, financial problems cause Susan (Teri Hatcher) to make ends meet by taking a job she doesn't want anyone to know about; Gabrielle (Eva Longoria) struggles with a painful revelation; Bree (Marcia Cross) starts a new romance; and Lynette (Felicity Huffman) raises her new baby while dealing with marital tension. … More
Genre:
Comedy
Network:
ABC
Premiere Date:
Sep 26, 2010
Creator:

Marc Cherry

Executive Producers:

Marc Cherry

,

Bob Daily

,

David Grossman

,

Joey Murphy

,

John Pardee

,

Larry Shaw

,

Sabrina Wind

,

Matt Berry

,

Jeff Greenstein

,

Marco Pennette

Producers:

Larry Shaw

,

Matt Berry

,

David Grossman

,

Sabrina Wind

,

Bob Daily

,

Jeff Greenstein

,

Marco Pennette

,

Marc Cherry

,

John Pardee

,

Joey Murphy
News & Interviews for Desperate Housewives: Season 7
Friend Ratings for Desperate Housewives: Season 7
No Friends? Inconceivable! Log in to see what your friends have to say.
Login
Audience Reviews for Desperate Housewives: Season 7
Discussion Forum
Discuss Desperate Housewives on our TV talk forum!