Deep Breath
EPISODE: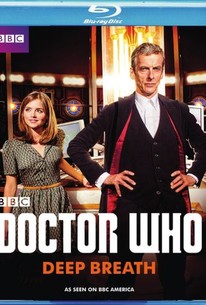 Critic Consensus: No consensus yet.
Episode Info
The newly-regenerated Twelfth Doctor (Peter Capaldi) experiences an identity crisis while Clara (Jenna Coleman) struggles to accept his weathered new look and a towering dinosaur rampages through London in the premiere episode of Doctor Who: Season Eight. His mind racing after his recent transformation, The Doctor convalesces in the care of Madam Vastra (Neve McIntosh), her maid/wife Jenny Flint (Catrin Stewart), and their Sontaran butler Strax (Dan Starkey) before awakening to see the misplaced dinosaur burst into flames. When Vastra points out that there have been other cases of spontaneous combustion recently, The Doctor sets out in search of answers. Before long, a clue in the newspaper leads The Doctor and Clara to a local restaurant, where they quickly realize they are surrounded by androids with no hope of escape. Upon descending into a subterranean lair The Doctor and his companion come face-to-face with an aged android who has been harvesting spare parts from humans so long that he's more flesh than metal. Later, after presenting the malevolent android with an ultimatum, The Doctor vanishes. When he subsequently reappears promising to take Clara home, she joins him in the TARDIS. Instead the pair heads to Glasgow, where Clara receives an unexpected phone call that changes her perspective on the recent regeneration, and renews her devotion to the tormented Time Lord.
Critic reviews for Deep Breath
ATTENTION: SOME OF THE QUOTES BELOW CONTAIN SPOILERS
Is this tired gendered humor still funny to anyone? Because I'm super done with it.
Overall, I'm still not quite sure where this new Doctor stands in comparison to the others, but it looks like Capaldi's off to a good start.
Discussion Forum
Discuss Doctor Who on our TV talk forum!