Escape at Dannemora: Miniseries
(2018)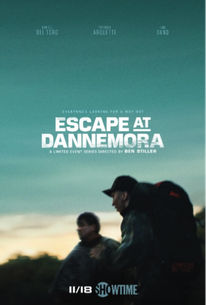 Rate And Review
Escape at Dannemora: Miniseries Photos
News & Interviews for Escape at Dannemora: Miniseries
Audience Reviews for Escape at Dannemora: Miniseries
I'm unclear as to why there are so many glowing reviews of this. I will gladly concur that the acting was excellent by all the main players, but the piece has two serious problems, at least for me, that are intertwined. The first is that this story doesn't warrant an eight part limited series (I believe it was shown in 7 parts in some territories). The story of the Chernobyl nuclear disaster was told in epic fashion in just 5 episodes, and is of global consequence; this was told in 7 or 8 episodes, and is the story of two lowlife criminals who planned a prison escape, along with the story of the dimwitted prison staff who helped them. I'm not sure why I should care about this story. The second related problem is therefore that it's really rather dull. There are lots of lingering shots of scenery, or people's faces through bars as they emote moodily, but really it's just filler to fill up time so there are seven / eight episodes. It's a production as flabby as some of the characters. Overall, I'm frustrated I invested this much time, as I was expecting something more, or something of substance, but I got a slight tale, with nothing particularly meaningful to say beyond "hey, this happened".

Beyond incredible. Escape At Danamora is a true story miniseries that truly brings you in and never pulls you out, giving you a gripping escape last episode. Patricia Arquette is extrodinary and everyone else delivers. This is a disturbing, wild, must see possible classic of a story that really caught my attention in 2015.

"Escape at Dannemora" is Ben Stiller unique gemstone as well as one of the best stories about two inmates who escape from a prison. By the way,Paul Dano and Benicio Del Toro are beyond great in this mini-series and both of them deserved an award for their performance.

There are cinematic labors that the audience can find edifying in some way, shape or form. Then there are those pieces that although well-made, present the viewer with no one you like or want to like. This is one of those stories; a story of horrible people acting horribly and nothing more. You think you are starting to believe in one of the characters but they are all so beyond redemption that the story... ...really isn't worth telling. That is the fatal flaw of this seven-part series. Excellent acting, truly excellent acting and good linear direction, good directing. These few items are what saved the rest of the movie from getting zero stars in my opinion.

Like watching paint dry in the rain. The "sex" scenes are a little disturbing. The music can get annoying as it is in the foreground, not the background. The speaking is a bit muffled and mumbled most of the time, especially when it is drowned out by the music. Arquette and Del Toro are amazing and watching them be their dynamic and somewhat disturbing characters are the only reason I continued to watch. Could have been a long movie instead of a drawn out series.

I was so impressed by so many actors. Patricia of course, but also the man who played her husband. He was so good at playing dumb. Really well done.

Ken Jacowitz was in this miniseries, so as a person of moral conscience, I must give it a 1/2.

Escape at Dannemora's turns a potentially intriguing premise led by talented actors into a torture divided in seven long parts - thanks to a deslusional decision to turn Ben Stiller into its director.

I admit, I was super into this show, Episodes 1-4. But I became completely confused, when they play this ridiculous music like all of a sudden I'm watching and episode of MacGyver...so weird..i liked it when it was moody, creepy and brooding and then...boom! Network television

How did this bore get 89%? ridiculous! super slow boring as boring can be. Good actors in a total time waster of a sleeping pill.