I Never Met the Dead Man
EPISODE: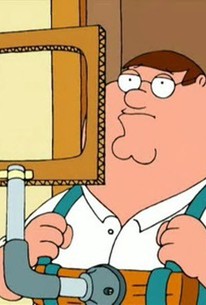 Episode Info
Faced with the prospect of eating broccoli, Stewie (voice of Seth MacFarlane) decides that the vegetable must be eradicated, and sets about turning an ordinary child's toy into a weather-control device. When Lois (voice of Alex Borstein) tells him to finish his vegetables, he responds, "Rest assured you relentless harridan, I expect I shall finish them all off!" Peter's (MacFarlane) half-hearted efforts to teach Meg (voice of Mila Kunis) how to drive (he'd rather sit home watching TV) result in her failing her driving test. Worse yet, on the drive home, Peter crashes into Quahog's cable television transmitter and knocks out cable for the whole town. He offers to buy Meg a convertible if she'll take the fall for him. Confronted by Lois about this misdeed, Peter says, "Isn't 'bribe' just another word for love?" Peter also has to deal with not being able to watch television, resulting in a strange nightmare featuring Alf, Gilligan, the robot from Lost in Space, Jeannie, and Samantha from Bewitched. Eventually, the truth about the car accident comes out, and Peter learns that he can function without TV. The family enjoys their time together, and when the TV comes back on, Peter eschews couch potato-ness in favor of attending a Bavarian Folk Festival with William Shatner. This episode features the voice talents of Erik Estrada.
I Never Met the Dead Man Photos
Discussion Forum
Discuss Family Guy on our TV talk forum!