Freaks and Geeks: Season 1
(1999 - 2000)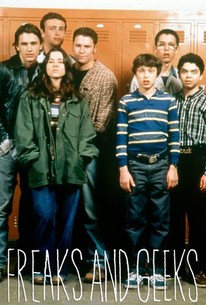 Rate And Review
Freaks and Geeks: Season 1 Photos
Tv Season Info
High school students cope with life at a Michigan high school in 1980. Stories focused on sophomore Lindsay, who discards her straight-A image to hang with the burnout crowd and her freshman brother Sam, who's tormented by bullies but gets moral support from his nerdy pals.
News & Interviews for Freaks and Geeks: Season 1
Audience Reviews for Freaks and Geeks: Season 1
Perhaps the most endearing, well-aged, and paramount tv series to be cancelled after only one season, Freaks and Geeks truly is more a sensation to watch than ever. Despite its setting in the early 80's and related soundtrack (featuring the likes of The Grateful Dead, Billy Joel, and others), Freaks and Geeks' material pertaining to the high school experience is universal for any age group, especially as it has such an understanding of the social dichotomies. Yes, the teenage characters are essentially divided into two groups, but the rendering of these so-called "freaks and geeks" is anything but stereotypical, and while extraordinarily funny, the show never falters in terms of realism or sensitivity. There's plenty of drama to be had here, with the writers delving into serious subjects that still aren't regularly addressed on U.S. television, and the show also handles the realities of sex and drugs amongst American youth while keeping it modest enough to appease the FCC, but never do the tactics feel like sugarcoating. Watching Freaks and Geeks now, the series cast essentially reads as a who's-who of today's comedy A-listers, and not just of the main cast (which of course includes Seth Rogen, Jason Segel, and James Franco), but numerous cameos throughout the show as well (which includes Liz Caplan, Rashida Jones, and Shia LaBeouf), and the show undeniably had some of the best child acting to ever grace the small screen. It's sickening to think that any station could abruptly cancel a tv series as special as this one, but we can all be thankful that everyone involved went on to have such flourishing careers. Still, even amongst masterstrokes like Bridesmaids, and Superbad, it's still logical to feel that Freaks and Geeks really was the best entry in the entire Apatow library, and now that it's streaming on Hulu (yes, with all the copyrighted music in tact!) it's the perfect time to watch and rewatch this gem.

I graduated high school in 1984, which makes me exactly Sam's age in the show. The walk down memory lane is fun, but what makes this show great — even rewatching it now 20 years later — is how real it is. And to paraphrase Francis Ford Coppola, it's not just a TV show about high school, it IS high school. The emotions, the various versions of awkwardness they ALL go through, the stupid social situations we're all forced to endure at that age — they felt, and still feel, spot on. Add to that the fact that so many cast and crew have gone on to be major forces in Hollywood, and it's just a joy to watch this lovely little show. (I've now shared the first two episodes with my wife, and she said "It's a shame they couldn't have kept this series going!")

This series hit deep on all the nostalgia and growing pains I've experienced and all that I haven't. It made itself fully relatable even for all the people that related to nothing in it. But, man, I related to a lot of this, which often made it hard to watch. This was such a fantastic show and it's so, so deeply saddening that there will never be any more of it. What a perfect cast, too. This show made me love Linda Cardellini.

I didn't understand why this show is as popular as it is at first but it really stepped up its game in the second part of the season. The characters are layered, their relationships unexpected and complex and they tackle some really important issues. It's still quite 90s in a lot of ways - storytelling, directing style, subject matter, pace - but I do get it now.

All around great show and future stars in their budding.

I'll never understand why this show was never renewed, it was amazingly pee your pants funny. It would be nice if they tried a remake of the show

Best high school show in the history

As perfect as any season of television ever was, Freaks and Geeks' one-and-done nature didn't prevent it from being one of the most enduring beloved cult classics. It is near impossible not to fall completely in love with this show and its characters.

MY ABSOLUTE FAVOURITE SHOW

This is in my opinion is a really ahead of it's time show. Really underground gem of a t.v. show based on teenagers in high school in the 70's. This show was the start of some of today's famous actors that kind of got there start here on this show. Love, love, love this show so funny.