I Second That Emotion
EPISODE: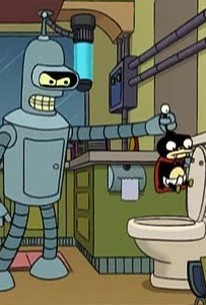 Episode Info
On Nibbler's birthday, Bender gets jealous because nobody is paying attention to him. Even when he tries to get noticed for baking a cake, Nibbler eats the whole thing. Angry, Bender flushes him down the toilet and Leela is heartbroken. Because the uncaring Bender feels no remorse, the Professor installs an empathy chip in him so he can understand how bad Leela is feeling about the loss of her pet. He is overcome with emotion and flushes himself down the toilet to try and save Nibbler. Fry and Leela try to find him, but they end up finding a race of underground sewer mutants. They all save Nibbler and have to fight the sewer monster "El Chupanibre."
Discussion Forum
Discuss Futurama on our TV talk forum!