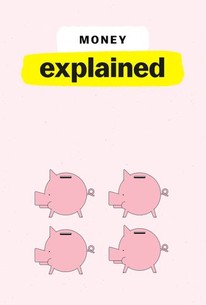 Where to watch
Subscription
Rate And Review
Money Explained: Limited Series Photos
Audience Reviews for Money Explained: Limited Series
As someone who know a fair bit on the subject, this was incredibly inaccurate.

Overall it's good and informative though Vox does push its political agenda in the student loan episode.

'Money Explained' doesn't actually explain money. It doesn't define money, the history or concept of money, or any of the really freaky aspects of modern finance (like the fact that modern US money is basically all debt). This show is for people that do not realize you should save money, and you probably shouldn't gamble wildly on get rich quick schemes or should pay more than the minimum credit card payment. So if you think Dogecoin is a great retirement plan, you should probably watch this. If you are NOT a moron, skip. I HATE the kind of limited, first-order thinking that dominates almost all discussions of economics. An example - this show spends an episode on scams, and an episode on retirement where they talk about Social Security. And yet, no one can connect the dots that SSI is a pay-it-forward Madoff-type scam writ large. Like most surface analysis of economics, the show kind of ends with 'we need more socialism'. I will give the show SOME credit for pointing out what every one SHOULD know from high school economics.
See Details