Mr. Monk and His Biggest Fan
EPISODE: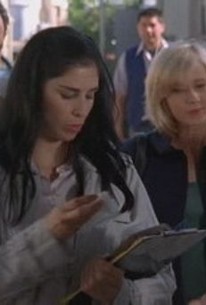 Episode Info
The sixth-season opener of Monk finds obsessive-compulsive consulting detective Adrian Monk (Tony Shalhoub) in full "paranoia" mode as he tries to elude his biggest fan Marci Maven (Sarah Silverman), who details his every move in her own "Monk" website. Marci insists that her idol help clear her pet dog Otto of a posthumous murder charge: Otto is accused of killing a neighbor, each though the mutt died three days before the neighbor did. Try as he might to steer clear of Marci, Monk must concede defeat when the persistent woman wins his detective services at a charity auction. In his efforts to wrap the case as quickly as possible, Monk tries to prove that the dog was framed...a task that would have been a lot easier had not an important fact about the dead neighbor's husband completely slipped Marci's mind.
Mr. Monk and His Biggest Fan Photos
Discussion Forum
Discuss Monk on our TV talk forum!