Sally4Ever: Season 1
(2018)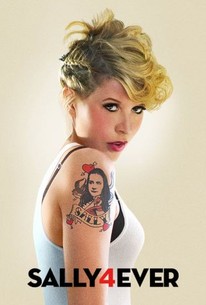 Rate And Review
Tv Season Info
Sally (Catherine Shepherd) is about to marry David (Alex Macqueen), her nebbish boyfriend of ten years, when she encounters the charismatic Emma (Julia Davis). The two fall into a romantic relationship, but what starts out as an exciting and sexy fling takes an unexpected turn when Emma reveals herself to be a nightmare.
News & Interviews for Sally4Ever: Season 1
Audience Reviews for Sally4Ever: Season 1
I started skipping ahead by 10 second intervals just to get close to the end of the episode(s). I only made it though 2 of them. I'm upset I wasted my time on this. This isn't funny. It's hard to watch. Emma's character makes you not want to watch further. The whole thing is cringe worthy. This is honestly the first HBO series I haven't loved. What in tf were they thinking?

The problem with Sally4Ever is how easy viewers categorize it as gross, when it very much earns all those disgusting jokes. The scatological humor sits by the sidelines of incredibly precise comedic performances, painfully sharp writing, and an engaging storyline that is never distracted.

I'm probably not the right audience for this one. Gave it a shot but found it boring and poorly written. Skip.

As good and nighty night. Julia Davis is a treasure

It's really hard to review this show. The actors are fantastic. But what am I supposed to make of this show? Who am I supposed to root for? Julia Davis probably has the best delivery in the show, but she's awful and I can't bear to watch her. She's, like, that bad--I don't want to watch her. But she's the best. Without including any spoilers, I want to warn any of you fecal-phobic folks out there to steer clear of this series.

Sally4Ever reminds me of when I first watched AbFab: Eddie and Patsy were so awful it took an episode or two to get used to the biting comedy, Sally4Ever is ten times as extreme, with profane language and scatological humour that is guaranteed to offend many viewers, even those who may consider themselves broadminded. But the show is also outrageously funny, and I am glad I stuck with it as the show builds steam to the seventh hilarious episode. Will not be everybody's cup of tea, especially North American Puritans, but you won't forget it in a hurry. Highly recommended.

This is one of the most hysterical shows I have ever seen. I am still rolling with laughter after watching the season finale!

OMG! Funniest show we have watched this year. We couldn't wait for the next episode to see what would happen next!

As uproarious as it is uplifting, Sally4Ever is a bright new spot for British television. Progressive in its focus on a same-sex relationship, while also being universal with it themes involving a milquetoast person entering a more liberating lifestyle, Sally4Ever already has a lot going for it conceptually, and it has the execution to make it all outstanding. Each episode is pristinely shot-and-edited, with wise use of music, and while it can be raunchy to an unbelievable level (even by today's standards) the show never resounds as anything less than human. The show is also highly unpredictable with its story, and ends on a note that's actually quite heartbreaking, so it's anyone's guess as to where it will go next year, but best believe I've already signed up for it!

This would be much funnier if there was at least one character who wasn't repulsive. This is a series that is periodically quite funny, but almost completely without wit.