SEASON: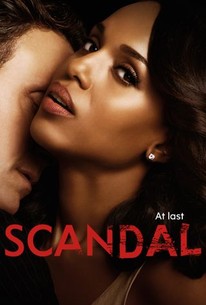 Episodes
Air date: Apr 5, 2012
Series premiere: A former White House communications director opens a Washington, D.C., crisis-management firm. On the opener, new hire Quinn Perkins is awed by her boss, whose own former boss—the president—is a client. He's accused of having an affair.More
Air date: Apr 12, 2012
When a D.C. madam comes under investigation, the team must keep her client list—a who's who of movers and shakers—from being made public. Meanwhile, Quinn has difficulties with the president's former intern, Amanda Tanner.More
Air date: Apr 19, 2012
The team reluctantly helps a millionaire's son accused of rape. It's a tough case, to say the least, and public perception could easily outweigh facts. Meanwhile, Olivia still insists on taking Amanda Tanner as a client, but she can't put her own past with President Grant behind her when Amanda asks to meet with him.More
Air date: Apr 26, 2012
Following a surprising development in the Amanda Tanner case, former friends Olivia and Cyrus disagree—heatedly—and Cyrus tries to help in a probe of the personal lives of Olivia and her team. Meanwhile, the team helps a dictator find his missing family, who have allegedly been kidnapped; and Quinn dates a reporter who's seeking information.More
Air date: May 3, 2012
The disappearance of Amanda Tanner gives Huck an opportunity to dust off his uncanny espionage skills to find out where she is. Meanwhile, the firm defends a pilot's reputation from accusations after a commercial plane crashes with no survivors; and the president tries to bridge the considerable gap between him and the vice president to pass key legislation.More
Air date: May 17, 2012
Season 1 finale: When Quinn finds herself in a fix that's both tragic and compromising, Olivia and the team rush to help. Meanwhile, Cyrus turns reluctantly to Olivia when Billy Chambers makes an announcement that shakes Fitz's presidency to its core.More
Tv Season Info
In the first series of this political drama, Olivia Pope (Kerry Washington), the owner of a successful Washington, D.C., crisis-management firm, adds Quinn Perkins (Katie Lowes), a young attorney with a mysterious past, to her staff. Quinn's first assignment involves Amanda Tanner (Liza Weil), a somewhat reluctant client who claims she's been having an affair with the president of the Unites States (Tony Goldwyn). Olivia's unsure if Amanda's telling the truth, but she takes the case, and she knows that the married president does indeed have a mistress, because that mistress is none other than herself.
Genre:
Drama
Network:
ABC
Premiere Date:
Apr 5, 2012
Creator:
Executive Producers:
Audience Reviews for Scandal: Season 1
Discussion Forum
Discuss Scandal on our TV talk forum!