Spinning Out: Season 1
(2020)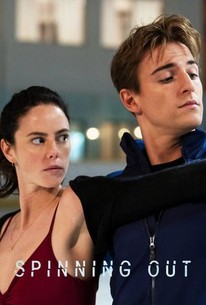 You might also like
Rate And Review
Spinning Out: Season 1 Photos
News & Interviews for Spinning Out: Season 1
Audience Reviews for Spinning Out: Season 1
A really enjoyable watch - wish that the finale tied up a few more loose ends.

As a competitive figure skater myself, figure skating is not actually like this! Figure skaters don't normally act like this, and please don't let this scare you away from the sport!

This show caught me off guard and is one of the best shows I've ever watched will be hoping every day Netflix changes their mind and makes another season.

Excellent!! Wish there was more!!!

I was surprised on how realistic it was when dealing with mental health. At first I thought it was too much to handle but that is what made it so real. In the end, that is what made me so invested in seeing how the story played out. I was anxious to see what was going to happen with the lead stars and hopeful for their reconciliation and success. I wish it was accepted for a second season so we could see the positives of conquering mental illness.

Juvenile, cliched, melodramatic, but watchable

One of the best series on netflix! Speechless

Kaya Scodelario plays an exceptionally talented skater with a secret. Spinning Out responds uniquely to living with a mental illness and melds this with other topics such as: self harm, racism, drug misuse, child grooming and infidelity. Sports like Ice Skating is an art on the outside but the work and pressure hidden underneath such a perfect exterior is unnerving. Kat's mother Carol is both her coach Mum and her worst critic (other than herself.) It is more common than not that parents live their unfulfilled dreams through their children and this is exactly what is happening in this very troubled family. At the end of the day for Kat it's about putting on a show, both on and off the ice. This idea of having to hide who you truly are from the harsh judgment of others is extremely relatable and even more so with mental health issues.

I don't get it!! How did they cancel this show. Spinning out is getting so good and now I find out it's over?!?! Who makes these Decisions!!?

Too bad they will not continue Spinning Out season 2. It targeted some major social issues in the ice skating world like bipolar disorder, family disfunction, sexual predators, and basically a more real look at a skaters life than a corny Ice Castles sappy story. Come on Netflix. Stop leaving fans hanging... this is a quality show that deserves to be continued.