Star Trek: Enterprise: Season 3
(2003-2004)
SEASON: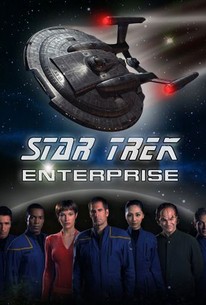 Star Trek: Enterprise: Season 3 Photos
Tv Season Info
Series 3 sees more drama on the Enterprise which includes; Captain Archer, Reed and Sato turned into aliens, Hoshi Sato being contacted by a 400-year-old telepathic alien, Archer and T'Pol travel back in time to stop three Xindi reptilians, the Enterpise taken over again, this time by religious zealots and much more.
Audience Reviews for Star Trek: Enterprise: Season 3
½
Enterprise gets rebranded as "Star Trek: Enterprise" and is given a revamped theme song in its third season as it attempts an unprecedented season long story arc. In the wake of a deadly attack on Earth by an unknown alien race called the Xindi, the Enterprise is sent on an urgent mission into unexplored space to find them and prevent them from launching any further attacks. It's a really interesting idea, but the execution is a bit lacking, as the Xindi story is broken up by a number of stand-alone episodes that disrupt the momentum. Yet, these breaks allow the show to balance out the main story arc with more traditional episodes about character development and exploration. Incredibly ambitious, Season 3 of Star Trek: Enterprise pushes the limits of the series and asks some very provocative moral and ethical questions.
Discussion Forum
Discuss Star Trek: Enterprise on our TV talk forum!