The Following: Season 1
(2013)
SEASON: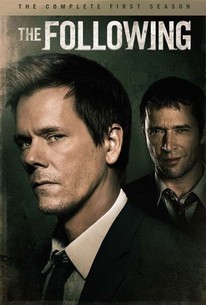 The Following: Season 1 Photos
Tv Season Info
Kevin Bacon stars in this roller coaster-like thriller as former FBI agent Ryan Hardy, who's called out of retirement to help catch escaped serial killer Joe Carroll (James Purefoy), whom he helped put away years earlier in a case that, quite literally, almost killed him. Carroll, a charismatic former English professor obsessed with Edgar Allan Poe, hasn't forgotten his old nemesis, either: the orchestrated mayhem he unleashes, which is carried out by acolytes he cultivated through the Internet and prison visitations, is designed to torment Hardy, who had an affair with Carroll's ex-wife Claire (Natalie Zea) after his arrest. In fact, Carroll has so much faith in his followers that he intentionally allows himself to be caught?all the better to taunt Hardy in person. Chief among his disciples: Emma (Valorie Curry), who worked as the live-in nanny for Claire's and Carroll's young son Joey (Kyle Catlet), and Claire's seemingly sweet gay neighbors Jacob (Nico Tortorella) and Paul (Adan Tanto). The three make off with the boy, setting in motion a season-long cat-and-mouse game with Hardy and the FBI. At the same time, other followers pull off a never-ending series of stunts, ranging from murders that mimic some of Carroll's to self-immolation to an attempt to kill Hardy's sister.
Audience Reviews for The Following: Season 1
½
Kevin Bacon stars in the Fox crime/drama The Following. In its first season former FBI agent Ryan Hardy is recalled when charismatic serial killer Joe Carroll breaks out of prison; but this is just the beginning as Carroll puts into motion an elaborate plan to exact revenge on Hardy (who was responsible for his capture) that involves dozens of his cult followers that he's been building up during his imprisonment. The show follows a 24-esk type structure as every 3-4 episodes the focus moves to a new cell or stage in Carroll's plan. And this adds an air of excitement and intrigue; as the plot is constantly building and shifting in direction. Bacon does an incredible job at carrying the series and develops Ryan Hardy into a compelling character. Still, the show takes a lot of liberties and stretches the bounds of believability. While Season 1 of The Following may be a little over-the-top, it's full of thrills and suspense.
Discussion Forum
Discuss The Following on our TV talk forum!