Life on the Fast Lane
EPISODE: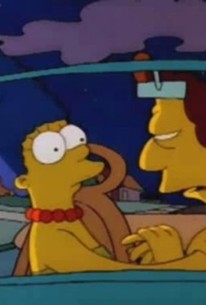 Episode Info
Homer Simpson (voice of Dan Castellaneta) has a reputation for not being very good at picking out gifts for his wife Marge (voice of Julie Kavner), as evidenced by such past birthday presents as a tackle box and a Connie Chung calendar, but he hits a new low when Marge finds she's the recipient of a new bowling ball -- which has been drilled to fit Homer's hand and even has his name engraved on it. Marge is furious that Homer used her birthday as an excuse to get himself a gift, and while she doesn't bowl, she decides to learn just out of spite. Marge's early attempts to teach herself the game are disastrous, but she soon attracts the attention of Jacques (voice of Albert Brooks), a local professional bowler who has a French accent and a way with the ladies. Marge is more than flattered by the attention she's receiving from Jacques (who, just because he likes her, cuts his lesson fee from $50 to $25), and she begins spending more and more time with him. But when Jacques asks her to spend the afternoon at his apartment, she wonders if she ought to leave her marriage behind. Homer, Lisa (voice of Yeardley Smith), and Bart (voice of Nancy Cartwright) all suspect that something more than a friendly game of ten pins is going on between Marge and Jacques, and all react with different degrees of dread. "Life on the Fast Lane" first aired on March 18, 1990.
Life on the Fast Lane Photos
Discussion Forum
Discuss The Simpsons on our TV talk forum!