The Walking Dead: Season 1
(2010)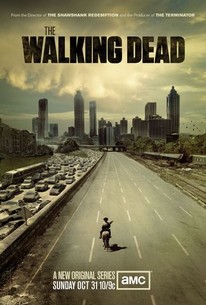 Rate And Review
The Walking Dead: Season 1 Photos
Tv Season Info
Adapted from a comic-book series, this horror drama follows the survivors of an apocalyptic holocaust who are searching for a safe haven while being tracked and menaced by zombies. In the first season, sheriff's deputy Rick Grimes (Andrew Lincoln) emerges from a coma to find few people but far too many flesh-eating "walkers" who have died and come back to life. A fellow survivor tells him there's a refugee center in Atlanta, so he heads there with hopes of finding his missing wife and son, eventually joining with others to fight off the walkers.
News & Interviews for The Walking Dead: Season 1
Audience Reviews for The Walking Dead: Season 1
A fantastic start to a fantastic show. The characters have depth, flaws, and unique backgrounds. The story is gripping and opens up amazing possibilities for plotlines and twists. You know that you are in for a wild ride after watching this season.

You know, I started watching this show when it first came out. I figured I'd wait a while to watch it again so I can binge. Sadly, it has been a very disappointing first season to say the least. The set designs really nailed the feel and it was filled with fun gore. The acting is dreadful though. I'm genuinely surprised at how bad it is considering the massive amount of hype surrounding this show. That wouldn't be bothersome except for the fact that they are clearly making a strong push for emotional moments in what boils down to an ordinary drama. All is not lost! I eagerly anticipate watching some of the characters get brutally mauled by a walker. Needless to say, I'm not propelled forward to watch the story unfold. I am curious to see if it picks up in subsequent seasons. I do feel compelled to keep watching to confirm my aforementioned opinions. Is it really not that great? I suspect it's not. Oh well.

For the first season this series presents a very powerful zombie story that no series has ever had. Powerful, intelligent, suspenseful and violent. Incredible start.

I think that the first season of The Walking Dead is very good, but a bit too short. I've watched seasons 1-3 and I've just started the fourth season. The other seasons so far I think are better. I think it was good that it was short, but I felt like the whole thing was just a bit rushed. Things could've been a bit slower.

I started watching without any hope that it would be good. I was surprised. It's the best series I've ever seen in my life. The plot is constant and full of action and emotion. Rick Grimes' desperation to find his family is represented by the excellent interpretation of Andrew Lincoln. However, it still has small problems, which do not affect anything in history.

Going back here after so many episodes is an experience. I highly recommend checking it out because it's probably unlike anything that has ever been on television before. This season had a charm to it that later seasons had lost, but that's also what makes it special. The only downside to this is that there are a lot of bland and underdeveloped characters that will die very early on

The series is overly contrived with boring drama and unrealistic violence.

Best show i have ever seen

The first season of TWD captivates anyone due to characters like Rick, Shane or Lori. Impressive walk made of suspanse and adrenaline that Rick does from the Hospital, walking through Atlanta and contacting his group. Very good. Very good scenes and effects. I advise to see!