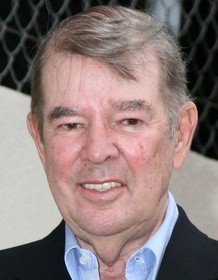 Alan Ladd Jr.
Highest Rated: 100% Laddie: The Man Behind the Movies (2017)
Lowest Rated: 29% X, Y & Zee (1972)
Birthday: Oct 22, 1937
Birthplace: Los Angeles, California, USA
The son of movie star Alan Ladd, Alan Ladd, Jr. forged an impressive legacy of his own as a maverick producer and studio head responsible for several of the greatest films of the late-20th century. A former Hollywood talent agent, Ladd began his career as a producer in the United Kingdom on mid-range genre films like "The Walking Stick" (1970) and "Villain" (1971). Returning home to work at 20th Century Fox, Ladd oversaw such hits as "Young Frankenstein" (1974) on his way to being named studio chief. Among his more memorable achievements was the shepherding of such genre-defining classics as "Star Wars" (1977) and "Alien" (1979) through the haphazard production process. Soon after, he formed The Ladd Company, where he produced films like the Oscar-winning "Chariots of Fire" (1981) and the iconic futuristic thriller "Blade Runner" (1982). In 1983 Ladd became the Chairman and CEO of MGM/UA, where he continued to greenlight a series of instant classics, including "Moonstruck" (1987), "Rain Man (1988) and "Thelma and Louise" (1991). Resurrecting The Ladd Company under the corporate umbrella of Paramount Pictures in 1993, Ladd garnered another Oscar for Mel Gibson's "Braveheart" (1995) and continued his success with "The Brady Bunch Movie" (1995) and its sequel before returning to work as an independent producer on such films as director Ben Affleck's "Gone Baby Gone" (2007). Revered for his keen eye for talent and unwavering standards, Ladd's reputation as one of Hollywood's top producers was well deserved. Ladd received his own star on the Hollywood Walk of Fame in the fall of 2007. Alan Ladd Jr. died on March 2, 2022 at the age of 84.
Skip to Quotes