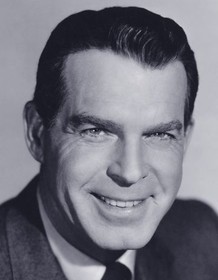 Fred MacMurray
Highest Rated: 100% Remember the Night (1940)
Lowest Rated: 9% The Swarm (1978)
Birthday: Aug 30, 1908
Birthplace: Kankakee, Illinois, USA
For over four decades, actor Fred MacMurray embodied the Everyman in a string of popular comedies and musicals, including "Remember the Night" (1940) and "The Egg and I" (1947) as well as a series of well-loved Disney live-action films like "The Absent-Minded Professor" (1961) and the long-running family series "My Three Sons" (ABC/CBS, 1960-1972). A handsome, affable presence, he made an ideal onscreen romantic partner to some of Hollywood's biggest female stars, including Claudette Colbert and Carole Lombard. So believable was MacMurray as upstanding young men that it seemed unlikely that he could play anything else, a notion that was dispelled by his chilly turn as a doomed murderer in Billy Wilder's "Double Indemnity" (1944). He proved equally successful in portraying the dark flipside to the Everyman, seduced by the lure of power, prestige and sex in "The Caine Mutiny" (1953) and Wilder's "The Apartment" (1960), though by the early 1960s, his status as America's favorite father figure was essentially complete. And if his versatility was often overshadowed by the vast number of audience-friendly pictures to his name, Fred MacMurray remained one of the screen's most likable personalities for decades, even long after his death in 1991.
Photos
DOUBLE INDEMNITY, from left, Fred MacMurray, Edward G. Robinson, 1944
THE CAINE MUTINY, Fred MacMurray, 1954
BRIDE COMES HOME, THE, Fred MacMurray, Claudette Colbert, Robert Young, 1935
TOO MANY HUSBANDS, Fred MacMurray, 1940
DOUBLE INDEMNITY, Barbara Stanwyck, Fred MacMurray, 1944.
TRUE CONFESSION, Carole Lombard, Fred MacMurray, 1937
THE ABSENT-MINDED PROFESSOR, Fred MacMurray, 1961
THE ABSENT-MINDED PROFESSOR, Fred MacMurray, 1961
THE ABSENT-MINDED PROFESSOR, Fred MacMurray, 1961
THE ABSENT-MINDED PROFESSOR, Fred MacMurray, 1961
THE ABSENT-MINDED PROFESSOR, Fred MacMurray, 1961
THE ABSENT-MINDED PROFESSOR, Fred MacMurray, 1961
TRUE CONFESSION, Fred MacMurray, Carole Lombard, 1937
TAKE A LETTER DARLING, Fred MacMurray, Rosalind Russell, 1942
REMEMBER THE NIGHT, Fred MacMurray, Barbara Stanwyck, 1940
THE SHAGGY DOG, Fred MacMurray, 1959
ABOVE SUSPICION, Fred MacMurray, Basil Rathbone, 1943
DOUBLE INDEMNITY, Fred MacMurray, Barbara Stanwyck, 1944
TAKE A LETTER DARLING, Constance Moore, Fred MacMurray, 1942
TAKE A LETTER DARLING, Fred MacMuray, Rosalind Russell, 1942