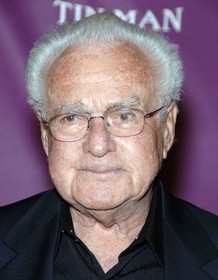 Robert Halmi Sr.
Highest Rated: 50% King of Texas (2002)
Lowest Rated: 33% Alice in Wonderland (1999)
Birthday: Jan 22, 1924
Birthplace: Budapest, Hungary
A larger-than-life showman who assembled nearly 200 film and TV productions in his first two decades in the business. Robert Halmi Sr is renowned for producing tasteful "prestige" productions for the small screen, including numerous acclaimed telefilms and landmark miniseries featuring some of Hollywood's most respected players. In the 1980s alone, he produced projects that teamed such famous names as Peter O'Toole and Jodie Foster ("Svengali," CBS 1983), James Cagney and Art Carney ("Terrible Joe Moran," CBS 1984), Kirk Douglas and Brock Peters ("The Secret," CBS 1992), George C Scott and Ali MacGraw ("China Rose," CBS 1983), and Scott, Don Ameche and Sylvia Sidney ("Pals," CBS 1987). His RHI Entertainment built relationships with many of the industry's leading writers, producers, agents, managers, advertisers, agencies and TV networks and when he sold the company to Hallmark in 1994, Halmi assumed the position of chair of Hallmark Entertainment.
Skip to Quotes
Filmography
Movies
TV
| | | | Credit | |
| --- | --- | --- | --- | --- |
| No Score Yet | No Score Yet | The Lost Empire | Executive Producer | 2012 |
| No Score Yet | No Score Yet | Dinotopia | Executive Producer | 2002-2003 |
| No Score Yet | No Score Yet | Dinotopia | Executive Producer | 2002 |
| No Score Yet | 96% | The 10th Kingdom | Executive Producer | 2000 |
| No Score Yet | No Score Yet | Alice in Wonderland | Executive Producer | 1999 |
| No Score Yet | No Score Yet | Moby Dick | Executive Producer | 1998 |