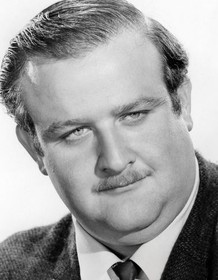 Victor Buono
Highest Rated: 92% What Ever Happened to Baby Jane? (1962)
Lowest Rated: 11% Four for Texas (1963)
Birthday: Feb 3, 1938
Birthplace: San Diego, California, USA
Victor Buono caught the acting bug early in high school, appearing in school-play productions of "Hamlet" and "The Barretts of Wimpole Street" to much acclaim. By the time he was 18 he was studying at the Globe Theater in San Diego. Because of his imposing girth, Buono could easily depict larger-than-life villains, but his quick wit and easygoing manner allowed him to play comedic roles as well. In television, his most notable work was as the nefarious Count Manzeppi on the rollicking Western show "The Wild Wild West" and as the wicked King Tut on the campy "Batman" television series of the 1960s. Buono also became a mainstay on late night television talk shows, particularly "The Tonight Show" with Johnny Carson. His film work was varied, including twisted thrillers such as "What Ever Happened to Baby Jane?" and "Hush... Hush, Sweet Charlotte" (both directed by Robert Aldrich), "The Strangler" (loosely based on the Boston Strangler case), the Rat Pack-infested "Robin and the 7 Hoods," and "Beneath the Planet of the Apes." Victor Buono died of a heart attack in 1982.
Photos
THE STRANGLER, Victor Buono, 1964
WHO'S MINDING THE MINT?, Victor Buono, 1967
HUSH... HUSH, SWEET CHARLOTTE, Victor Buono, 1964. TM and Copyright © 20th Century Fox Film Corp. All rights reserved.
ROBIN AND THE 7 HOODS, standing from left: Sammy Davis Jr., Richard Bakalyan, Hank Henry, Dean Martin, Frank Sinatra (foot on ladder), seated from left: Barbara Rush, Victor Buono, 1964
WHO'S MINDING THE MINT?, Jim Hutton, Jamie Farr, Bob Denver (in cap), Jack Gilford, Joey Bishop, Victor Buono, Walter Brennan, Milton Berle, Dorothy Provine, 1967
WHAT EVER HAPPENED TO BABY JANE?, from left, Marjorie Bennett, Victor Buono, 1962
THE STRANGLER, Victor Buono, 1964
THE STRANGLER, Victor Buono, 1964
THE STRANGLER, Victor Buono, 1964
THE STRANGLER, Victor Buono, 1964
THE STRANGLER, Ellen Corby (seated), Victor Buono, 1964
ARNOLD, Stella Stevens, Victor Buono, 1973
THE STRANGLER, Victor Buono, 1964
THE WRATH OF GOD, Victor Buono, Robert Mitchum, Ken Hutchison, 1972
WHO'S MINDING THE MINT?, from left, Jack Gilford, Jamie Farr, Victor Buono, Walter Brennan, Bob Denver, Jim Hutton, Joey Bishop, Milton Berle, 1967
WHO'S MINDING THE MINT?, Jim Hutton, Dorothy Provine, Jack Gilford, Milton Berle, Walter Brennan, Joey Bishop, Victor Buono, 1967
WHO'S MINDING THE MINT?, Milton Berle, Walter Brennan, Dorothy Provine, Joey Bishop, Victor Buono, Jamie Farr, Jack Gilford, 1967
WRATH OF GOD, THE, Ken Hutchison, Robert Mitchum, Victor Buono, 1972
THE STRANGLER, Victor Buono, 1964
THE STRANGLER, Jeanne Bates, Victor Buono, 1964
Filmography
Movies
TV
Credit

No Score Yet

71%

Taxi
Mr. Caldwell (Guest Star)

1980

No Score Yet

No Score Yet

Fantasy Island
Unknown (Guest Star)

1980

No Score Yet

No Score Yet

Man From Atlantis
Unknown (Guest Star)

1977

No Score Yet

No Score Yet

Hardy Boys/Nancy Drew Mysteries
Unknown (Guest Star)

1977

No Score Yet

No Score Yet

Alice
Unknown (Guest Star)

1976

No Score Yet

No Score Yet

The Practice
Unknown (Guest Star)

1976

No Score Yet

No Score Yet

The Odd Couple
Dr. Clove (Guest Star)

1973

1975

No Score Yet

No Score Yet

Mannix
Hamilton Starr (Guest Star)

1973

No Score Yet

No Score Yet

Mod Squad
Alexander Vlahos (Guest Star)

1972

No Score Yet

100%

Night Gallery
Unknown (Character)

1971

No Score Yet

79%

Get Smart
Unknown (Guest Star)

1970

No Score Yet

No Score Yet

Here's Lucy
Unknown (Guest Star)

1969

No Score Yet

No Score Yet

The Flying Nun
Unknown (Guest Star)

1969

72%

79%

Batman
Unknown (Guest Star)

1966-1968

No Score Yet

No Score Yet

Daniel Boone
Unknown (Guest Star)

1967

10%

No Score Yet

The Girl From U.N.C.L.E.
Unknown (Guest Star)

1967

No Score Yet

100%

The Wild, Wild West
Unknown (Guest Star)

1965-1967

No Score Yet

No Score Yet

Perry Mason
Nathon Fallon (Guest Star)

1962

1964-1966

No Score Yet

No Score Yet

I Spy
Unknown (Guest Star)

1966

100%

No Score Yet

The Man From U.N.C.L.E.
Unknown (Guest Star)

1966

No Score Yet

No Score Yet

77 Sunset Strip
Victor Traymund (Guest Star)

1960-1963

No Score Yet

No Score Yet

The Untouchables
Unknown (Guest Star)

1961-1962

No Score Yet

No Score Yet

The Detectives
Unknown (Guest Star)

1961

No Score Yet

No Score Yet

Thriller
Unknown (Character)

1961

No Score Yet

No Score Yet

Surfside 6
Unknown (Guest Star)

1960

No Score Yet

No Score Yet

The Rebel
Unknown (Guest Star)

1960