Porgy and Bess
(1959)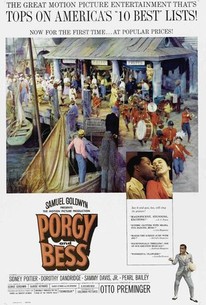 Movie Info
This film version of George Gershwin's classic American operetta tells the story of Porgy, a crippled young man who falls in love with the beautiful, free-spirited and heroin-addicted Bess who is not only loved by her drug dealer, but also by Crown, a ruthless longshoreman.
Critic Reviews for Porgy and Bess
Audience Reviews for Porgy and Bess
½
YA KNOW, IVE READ ALOT OF THESE DISCUSSION BOARDS ON PORGY AND BESS AND THE QUESTION ON RELEASING IT, INCLUDING A DEBATE ON THE COSTS OF ITS RESTORATION AND ROYALTIES, I HAVE TO SAY THAT WHOEVER HAS CONTROL OVER THIS MUST BE HEARTLESS. READING THE PASSION AND EMOTION FOR A MOVIE THAT PEOPLE HAVNT SEEN IN OVER 50 YEARS NOW, MADE ME FIND A BOOTLEG COPY AND BUY IT AND IM SO GLAD I DID. I WAS SO MOVED BY ALL THE EMPASSIONED PLEES I HAVE READ HERE AND THERE THAT I FELT I HAD TO EXPERIENCE THIS FILM. I FOUND NOTHING OFFENSIVE ABOUT IT. THAT WAS LIFE IN THAT TIME PERIOD...AND THATS WHAT IT IS...A PERIOD PIECE. SAMMY DAVIS JR WAS SO GOOD, YOU COULD TELL HOW MUCH HE WANTED THAT ROLE, DOROTHY WAS LOVELY...SIMPLY BEAUTIFUL... AND I LIKED SIDNEY'S YOUTH AND INNOCENCE HE BROUGHT TO THE ROLE..... I HAVE STARTED A PETITION.. THE ADDRESS IS http://www.ipetitions.com/petition/porgyandbessmovie/ ...ONCE EVERY SIX MONTHS I WILL SEND THE PETITION TO THE GERSHWIN ESTATE, THE GOLDWYN ESTATE, AND MGM.... HOPEFULLY SOMEONE WILL NOTICE AND HEAR OUR CRIES...I REALIZE ITS ALL ABOUT MAKING A PROFIT. BUT IF THERE ARE ENOUGH PEOPLE WHO WANT THIS PRODUCT THEN THEY MAY REALIZE THERE IS A MARKET FOR SUCH A PRODUCT.
DAVID CORNELIUS
This was as fine a presentation of George Gershwin's "Porgy and Bess" as there ever was, with perhaps the exception of the performance starring Michael V.W. Gordon as "Porgy" at the Indiana University Jacob's School of Music in 1976.
Michael Gordon
½
This is a wonderful movie and it's a shame that it really hasn't been seen by the masses in about 50 years. (Aside from its original theatrical release in 1959, it was broadcast on television once and enjoyed four theatrical screenings at New York's Ziegfield theater in September 2007). Sammy Davis Jr., Pearl Bailey and Dorothy Dandridge all turn in excellent performances. I was nonplussed by Poitier's portrayal of Porgy; however he delivers a sweet and sincere performance and he is nontheless very endearing. The opera has been reworked into a format more akin to that of a Broadway musical, and it works fine here--considering this same approach was used in some revivals of this piece, including Trevor Nunn's 2007 production, I think it's perfectly appropriate to have a document of how this story operates as a musical as opposed to a full-blown opera. For those who may feel daunted by trying to watch this story in opera form, this is a wonderfully accessible "Porgy and Bess" primer equipped with fine performances and beautiful music--thanks to both George Gershwin and Andre Previn who supervised and adapted the music for the film. This begs for a DVD release and I hope the Gershwin estate will allow the film to survive and circulate.
Jesse Rhodes
Porgy and Bess Quotes
There are no approved quotes yet for this movie.
Discussion Forum
Discuss Porgy and Bess on our Movie forum!