All the King's Men
(1949)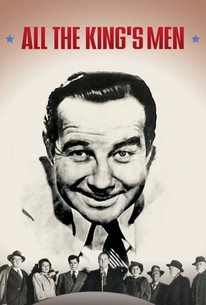 TOMATOMETER
AUDIENCE SCORE
Critic Consensus: Broderick Crawford is spellbinding as politician Willie Stark in director Robert Rossen's adaptation of the Robert Penn Warren novel about the corrosive effects of power on the human soul.
All the King's Men Photos
Movie Info
Based on the Pulitzer Prize-winning novel by Robert Penn Warren, All the King's Men is a roman à clef inspired by the career of Louisiana governor Huey Long. Broderick Crawford won an Academy Award for his portrayal of Willie Stark, a backwoods Southern lawyer who wins the hearts of his constituents by bucking the corrupt state government. Journalist Jack Burden (John Ireland) is impressed by Willie's seeming sincerity, and aids Stark on the road to political power. Once he's reached the governor's mansion, however, Willie proves himself to be as dishonest and despotic as the crooks whom he's replaced. He also cheats shamelessly on his wife with both his campaign manager (Mercedes McCambridge, another Oscar winner) and with Anne Stanton (Joanne Dru), the sister of idealistic doctor Adam Stanton (Sheppard Strudwick). Fiercely protective of his power, Willie organizes a fascistic police force and arranges for "accidents" to befall those who oppose him; even so, he retains the love of the voters by lowering the poverty level, improving the school system, and financing building projects. Even when Willie all but orchestrates the suicide of Anne's uncle, a highly respected judge (Raymond Greenleaf), those closest to him are unable to escape his power and the charismatic hold he has over people. Stockton, CA, stands in for the unnamed state capitol where most of the film's action occurs. In addition to its Oscars for Crawford and McCambridge, All the King's Men won the Best Picture prize. Warren's novel would later be adapted into a stage play, a TV special, and even an opera.
News & Interviews for All the King's Men
Critic Reviews for All the King's Men
Audience Reviews for All the King's Men
½
A regional politician rises to power but loses his grip on his principles along the way. The original man-ruined-by-the-system story, All the King's Men doesn't have much over its Sean Penn remake or the more modern The Candidate. The performances are all fine, but the story, which is compelling at its base, doesn't fully explore what motivates Willie's descent. Power-hungry characters aren't compelling if they're not power-hungry in ways with which we can identify. Overall, in this case, the imitations are better than the original.
Jim Hunter
Super Reviewer
½
This interesting play on the old maxim about absolute power corrupting absolutely could've spent a wee bit more time actually looking at corruption itself instead of choosing to simply imply that it's there. We get to see characters capitulating their morals, but not to know why. As well there's enough of a faint taste of "member dat good ol' a-ris-to-crazy ... dey was sho' good to us!" to have one looking for something to cleanse the palate. Nonetheless riveting work ...
Kevin M. Williams
Super Reviewer
½
A great example of how politics really works, through corruption and dishonesty. There's a fantastic cast in this film as well. This one is definitely worth a watch if you're interested in political films, or if you're just looking for a movie that makes you think.
All the King's Men Quotes
There are no approved quotes yet for this movie.