Sin Nombre
(2009)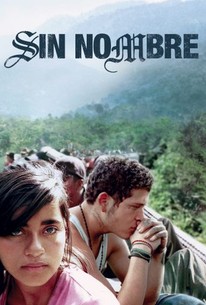 TOMATOMETER
AUDIENCE SCORE
Critic Consensus: Part harrowing immigration tale, part gangster story, this debut by writer/director Cary Fukunaga is sensitive, insightful and deeply authentic.
Movie Info
Sayra, a teenager living in Honduras, hungers for a brighter future. A reunion with her long-estranged father gives Sayra her only real option--emigrating with her father and her uncle into Mexico and then the United States, where her father now has a new family. Meanwhile, Casper, is a teenager living in Tapachula, Mexico. A member of the Mara Salvatrucha gang brotherhood, he has just brought to the Mara a new recruit, 12-year-old Smiley. While Smiley quickly takes to gang life, Casper tries to protect his relationship with girlfriend Martha Marlene, keeping their love a secret from the Mara. But when Martha encounters Tapachula's Mara leader Lil' Mago, she is brutally taken from Casper forever. Sayra and her relatives manage to cross over into Mexico and join other immigrants waiting at the Tapachula train yards. When a States-bound freight train arrives one night, they successfully rush to board--riding atop it, rather than in the cars--as does Lil' Mago, who has commandeered Casper and Smiley along to rob immigrants. When day breaks, Lil' Mago makes his move and Casper in turn makes a fateful decision. Casper must now navigate the psychological gauntlet of his violent existence and the physical one of the unforgiving Mara, but Sayra bravely allies herself with him as the train journeys through the Mexican countryside towards the hope of new lives.
People Who Like this movie also like
News & Interviews for Sin Nombre
Critic Reviews for Sin Nombre
Audience Reviews for Sin Nombre
½
A gang member kills his boss when he tries to rape a young immigrant and together they try to make it across the border to the U.S. with his former friends in pursuit. Sin Nombre will no doubt be considered the "Mexican City Of God" by many because of its gangland subject matter and young protagonists, but this film is a rather more human tale, more about escaping the life than the crime and brutality depicted in the Brazilian film. It shares a similar dark tone but is more of a road movie showing the bad conditions and hardships endured by the illegal immigrants seeking a new life in the United States as well as the harsh realities they are trying to escape. Edgar Flores puts in a very strong performance as the former thug trying to find something better whilst floundering in a world that no longer makes any sense to him without the friends or purpose in life given to him by his affiliation. Those expecting lots of gangland action and shoot outs may be disappointed, but it's a tense and intelligent story with a moral message that transcends culture and nationality.
½
This honest, realistic and sometimes painfully violent Latin-American film is about the dream of a better life beyond the Mexican border. On a train up North towards the USA a young girl, her father and uncle meet a gang member on the run from his former comrades. Especially the set-up for that encounter is really enthralling and well done. Once the train is rolling and the vulnerable romance develops, the film slows down a bit and its characters become a little less believable, but are still extremely well acted, especially by the talented Paulina Gaitan. The portrayal of the gangs is so gut-wrenching and realistic it almost feels like a documentary, which doesn't exactly make it easier to stomach. Of course it all ends as depressingly as you'd expected, but thankfully not without a ray of hope. Well done.
½
A well-made melodrama with firmly rooted Shakespearean underpinnings concerning a gang-member on the run (Edgar Flores) after he murders one of his own, and how he forms an unlikely relationship with a teenage girl (Paulina Gaitan) who has her sights set on getting across the American border. What director Cary Fukunaga does so well is make us sympathize with both characters involved in the story, despite the fact that they are both aspiring illegal aliens who are knowingly breaking the law. The story is slightly overdone in sections, and sometimes it does not know how to pace itself, but overall it still comes out a winner somehow, someway. The last twenty minutes of the film are particularly thrilling if somewhat predictable. Flores turn as a tortured man scrambling just to survive is absolutely arresting, and the relationship he forms with Gaitan's character is well-managed. As said, sometimes it is over-directed and over-acted, but the story structure remains strong throughout. Not as good as some critics would have you believe, but still a fine movie worthy of one's time thanks to its careful handling of illegal immigration and sympathizing with those that do it.
Dan Schultz
Super Reviewer
Sin Nombre Quotes
There are no approved quotes yet for this movie.