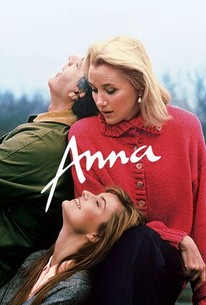 Anna
1987, Drama, 1h 40m
5 Reviews
100+ Ratings
Rate And Review
Movie Info
Starry-eyed Czech immigrant Krystyna (Paulina Porizkova) journeys to New York City to meet her hero, Anna (Sally Kirkland), a once-famous actress from her homeland. Having passed her Hollywood prime, Anna now struggles to find even bit parts in movies, and so instead begins mentoring young Krystyna, encouraging her in her own pursuit of stardom. As one star's career fades and another's begins to rise, the two women band together to overcome inequities in the unforgiving world of show business.
Audience Reviews for Anna
A failing former actress from Czechoslovakia takes another Czech refugee under her wing, and the fledgling actress eclipses her mentor's success. The film's plot, similar to <i>All about Eve</i>, is not compelling by itself. What is interesting about the film is the portrayal of the acting world that Anna tries to navigate. The opening audition scene with actresses forced to tell personal sexual stories makes for great satire and sets up Anna's character well. Also, Paulina Porizkova, doe-eyed beauty that she is, is actually more charming and alluring than the similar character played by Anna Baxter in <i>All about Eve</i>. Sally Kirkland, however, plays the lead, and though her performance netted her an Oscar nod, an Independent Spirit Award, and a Golden Globe, I think it's remarkably uneven. The plot makes her go through hysterical breakdown after hysterical breakdown, and even if each of these is well-acted, there comes a point when Anna seems too unhinged. Kirkland doesn't build, and the film suffers as a result. Overall, Kirkland isn't as good as she could be, but parts of the film are well done, and I was introduced to the intriguing Porizkova.
See Details