The Objective
(2008)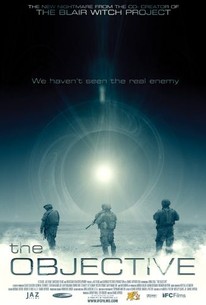 Movie Info
A team of U.S. Special Ops forces is dispatched to a remote mountain region of Afghanistan with the ostensible orders of locating an influential Muslim cleric. While on the mission they find themselves lost in a Middle Eastern "Bermuda Triangle" of ancient evil and faced with an enemy that none of them could have imagined.
Critic Reviews for The Objective
Audience Reviews for The Objective
½
Starts off interesting enough but just gets really stupid and confusing after a while.
Stephen Skudlarek
Super Reviewer
½
There's a point, around the half hour mark, where this movie may or may not lose you. It's the type of scene that shows how the lack of a big budget can cripple a sci-fi movie. The Objective is a schizophrenic little film that wants to be more than what it's unfortunately capable of. The film takes place in Afghanistan, as a CIA agent has taken a group of special ops soldiers on an undisclosed mission to find some supposed atomic weapons of mass destruction. As the group travels further into the country, they encounter more and more maddening things, including strange lights and ghosts from centuries past. Daniel Myrick (who also wrote The Blair Witch Project) writes and directs what seems to be an attempt to capture lightning twice, as the film attempts the what-is-happening realism that made Blair Witch such a pioneering work. Unfortunately, it's been ten years since the Blair Witch Project came out, and movies in this style have been pretty played out. This film has several other strikes against it, including sci-fi channel movie-of-the-week quality special effects and at times, student film quality acting by some of the leads (really, there were times towards the end where the performances became laughable). The film does however, start off quite strong and I can't fully dismiss it as a whole. Also, I found the subject matter to be quite interesting, and even if the ending practically torpedoes the entire film, I can't say I didn't enjoy it overall.
Devon Bott
Super Reviewer
Totally bullshit. Cheap movie.
Dead Angel
Super Reviewer
The Objective Quotes
There are no approved quotes yet for this movie.