The Lottery
(2010)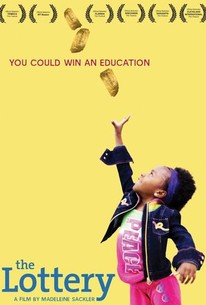 Movie Info
"The Lottery" is a feature length documentary that explores the struggles and dreams of four families from Harlem and The Bronx in the months leading up to the lottery for Harlem Success Academy, one of the most successful charter schools in New York. The four families cast their lots in a high stakes draw, where only a small minority of children emerge with a chance at a better future.
Critic Reviews for The Lottery
Audience Reviews for The Lottery
½
I hadn't heard of this. I only knew that it was similar subject matter as Waiting for Superman, which has got a lot of press. So I watched it thinking maybe it was a so-so version of that film. But I was pleasantly surprised. Basically it follows different charter schools in New York, and shows how vastly superior they are at educating children than the NY public school system. These schools are funded by private donations, so kids an get in for free, which creates a huge amount of applicants with only a fraction of slots available. So a lottery is held to see who gets in. The biggest surprise was how many people are against these schools, mostly driven by teacher's unions and fear of gentrification. I still haven't seen Waiting for Superman, but this a fine film for the time being. ~On netflix streaming~
The Lottery Quotes
There are no approved quotes yet for this movie.