The Big Heat
(1953)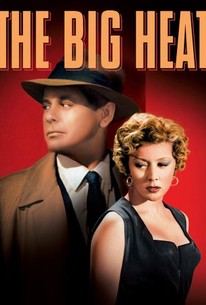 Movie Info
One of the great film noirs, this unrelentingly brutal crime drama centers on a street-toughened detective's quest for vengeance after his wife is accidentally killed by the gangsters who have been assigned to murder him. Working outside the law's confines, the detective's obsessive search for the culprits leads him into the labyrinthine bowels of mob-corrupted city politics. Much of the plot is based on the U.S. Senate investigations of 1950 that exposed the influence of organized crime upon American politics.
News & Interviews for The Big Heat
Critic Reviews for The Big Heat
Audience Reviews for The Big Heat
½
Film Noir that's for sure, they just don't make them like this anymore. Glenn Ford plays a detective who is working a case where city officials and the mob are involved, He's putting the heat on the mob trying to solve the apparent suicide of another police officer, and the mob is putting the heat on his family. Enjoyable scene's at home wife cooking dinner having a few cocktails. Beer at a bar cost 35 cents, a real phone booth that cost a dime had a door on the booth so no one could hear your conversation unlike today with cell phones. Overall an outstanding Black and White Film, Marlen Brando's sister played in this movie and she was pretty hot back in the day Jocelyn Brando. And Gloria Grahame played a gangsters girl and she was also hot, don't see women like this on the big screen today. No Class no Talent welcome to 2011. The movie is 4 1/2 stars all the way.
Bruce Bruce
Super Reviewer
Another good thriller from Fritz Lang, I liked it.
½
Not at all bad if you wanna kill some 90 hot minutes. However, if you 're looking for an unpredictable thriller, this one isn't gonna satisfy you.
familiar stranger
Super Reviewer
Discussion Forum
Discuss The Big Heat on our Movie forum!